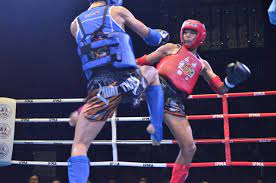 Mohammad Johan Ghazali Zulfikar of Sarawak has won the 2022 IFMA World Youth Muay Thai Championship in the 14–15 division (under 60 kg).
He won the match against Russian competitor Rustam Yunusob 20-18 on Saturday at the Sunway Pyramid Convention Center located in Petaling Jaya.
The victory was made more sweeter by the fact that the SMK St Thomas Kuching student later received the Best Boxer-Outstanding Male Athlete award.
Muhammad Mikail Ghazali Zulfikar, Mohammad Johan's younger brother, won a gold medal in the IFMA World Muaythai Grand Slam division while competing for PMM (Malaysia A) as well (Junior 12-13 Male Youth 36-40kg). He also earned a medal in the Junior 12–13 Men's Under 40kg division.
Texas Jeremy Lo, a fellow Sarawakian who qualified under the PMM (Malaysia A) wildcard but lost to Russian fighter Sarkhan Alberov of the IFMA in the final, also contributed a silver medal.
Sisters Nur Afiqah Musfirah Baharom and Nur Arifah Mahsunah Baharom won silver in the Muay Boran category, demonstrating the excellence of Sarawak's female athletes (Mae Muay open category).
Nur Haina Aisyah Muhamad Haikal Jenil won another silver in the IFMA Youth 30kg division.
When reached, Jumaat Ibrahim, president of the Sarawak State Muay Thai Association (PMNS), expressed his congratulations to all Sarawakian participants on their accomplishments at the global championship.
He said that their accomplishment proved Sarawak's capacity to produce well-known muay thai stars on par with top-tier sportsmen.
It also demonstrated that all of the development initiatives undertaken by PMNS and supported by neighbourhood muay thai clubs each year yielded results, he continued.
"Their achievements are the result of support and support from all parties such as the Ministry of Youth, Sports and Sarawak Entrepreneur Development; Sarawak Sports Corporation (SSC); Sarawak State Sports Council (MSNS); clubs; coaches; and athletes themselves to see muay thai sport in Sarawak continue grow and go further.
"I would also like to thank the Malaysian Muaythai Association (PMM) for trusting us by sponsoring Sarawak athletes to participate in this world championship," he said.
Jumaat also believed that the athletes from Sarawak will build on their current winning streak at the Kuala Lumpur Malaysia Games (Sukma) the following month.