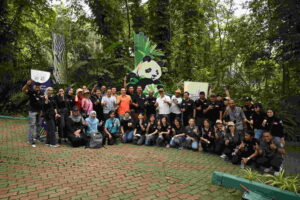 KUALA LUMPUR – 25 AUGUST 2022: Malaysia Convention & Exhibition Bureau (MyCEB) passionately participates in a social, economic, and environmental impact movement, the 'Lend a Hand' CSR program, in connection with the Meet in Malaysia @ Malaysia Business Events Week 2022 (MIM @ MBEW 2022). Dato' Sri Abdul Khani Daud, Chief Executive Officer of MyCEB, will be awarded during the CSR initiative on August 25, 2022, at Zoo Negara Malaysia. It comprises a deeper significance that extends beyond commercial events and into social influence and heritage.
"Acting as the national bureau, it is increasingly essential to integrate CSR movements into all business events related activities that potentially deepen the engagement with our industry stakeholders and international delegates. In order to portray a prime example, sustainability is deeply ingrained in our operations which is also a major component for this year's MIM @ MBEW. The reason why we are organising this initiative in conjunction with Meet in Malaysia @ Malaysia Business Events Week 2022 is to stay mindful in contributing back to the community and by doing so, we hope that the industry and stakeholders will also follow suit through the power of collaboration", says Dato' Sri Abdul Khani Daud, CEO of MyCEB.
Malaysian Association of Convention & Exhibition Organisers & Suppliers (MACEOS), World Trade Centre Kuala Lumpur (WTCKL), Setia City Convention Centre (SCCC), Malaysia International Trade and Exhibition Centre (MITEC), PICO International Sdn Bhd (PICO), Borneo Convention Centre Kuching (BCCK), and Evenesis, Exploring transformative offerings of CSR entails a powerful projection of teamwork by the assembling of Malaysia's business events stakeholders.
The volunteers aspire to exit the national zoo area in better condition than when they came. As a result, a portion of the Zoo Negara Malaysia property will be refurbished to create a more engaging and bright environment with the intention of receiving more cheerful tourists in the future.
The 'Lend a Hand' CSR program invites 60 children from Rahoma Darul Fakir exclusively. The familiar faces are easily identified because the same group of children were also specially invited for an iftar celebration held in conjunction with the Malaysia Business Events Charter during the holy month of Ramadhan, effectively gathering influential industry players to converge on the business events industry's way forward.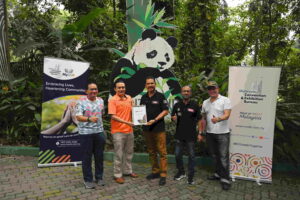 Dato' Sri Abdul Khani Daud, CEO of MyCEB continues, "I would like to once again commend the business events industry key players for your tremendous support and effort in lending your hand and volunteering today. The nature of business events is about bringing in international delegates to our shore, which will in return benefit the country economically. Along with it comes various platforms of opportunity to integrate movements that benefit the local organisations and society. Here at MyCEB, we strongly believe that we must put equal emphasis to the thing that really matters the most, uplifting Malaysia's status as the leading business events hub alongside environmental and social well-being. The 'Lend a Hand' CSR initiative carried out at Zoo Negara Malaysia is our way of initiating a small act of contribution with the aim of leaving behind a larger and everlasting impact of a better tomorrow. CSR initiatives have always been part of the business events industry's DNA, and as the national convention and exhibition bureau, this is the area that we try to power up." Let's BE Greater, Together. Meet in Malaysia.
As stated early, The Meet in Malaysia @ Malaysia Business Events Week 2022 is supported by Asian Federation of Exhibition and Convention Associations (AFECA), BERNAMA, Business Events Council Malaysia, Evenesis, Karyaneka, Malaysian Association of Convention & Exhibition Organisers & Suppliers (MACEOS), Malaysian Society of Association Executives (MSAE), Sabah Tourism Board, Shangri-La, World Trade Centre (WTC) Kuala Lumpur.
This events is in collaboration with Asia Convention Alliance (ACA), Destinations International, Food Aid Foundation, Global Association of the Exhibition Industry (UFI), Hybrid City Alliance (HCA), International Association of Exhibitions and Events (IAEE)., International Association of Professional Congress Organisers (IAPCO), International Congress and Convention Association, International Union of Architects (UIA), Kloth Cares,Urbanice.