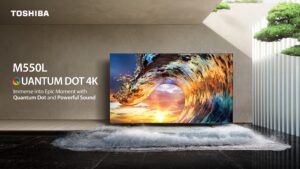 In Malaysia, Toshiba TV's M550L Quantum Dot 4K TV is already available, according to a recent press release. The end result of scaling up the fundamental features of their best-selling TV, the M550, into a premium and comprehensive smart television is the product (TV). Viewers now witness the enhanced, distinctive REGZA Engine 4K reality in every video. The Toshiba m550L also has Google TV and Apple Airplay, allowing users to stream high definition media from their phones to TVs.
A home theatre should contain the best features and technology that well replicates a true-cinematic experience. The M550L produces powerful sound and superior colour accuracy, which closely meets the expectation of a cinema. This model is available in 50", 55" and 65" to meet the needs of customers nowadays and will be priced at RM2,599, RM3,199, and RM4,399 respectively. Malaysians can purchase the Toshiba Quantum Dot 4K TV M550L at authorised retail stores and online stores across Malaysia.
M550L combines the precise colour mapping and various colour correction skills of REGZA Engine 4K Pro with the Quantum Dot Technology to provides users richer pure colours and turn every scene's detail into more vivid, impressive, and stunning. It also maximizes the contrast of light and dark elements and analyzes the motions to provide users with a greater, smooth and more comfortable scene to watch via the Full Array Local Dimming the Ultimate Motion technology. In short, M550L displays natural and beautiful pictures in the way the creator intended.
HDR10+ and Dolby Vision-Atmos are the most exciting features of the M550L as it allows the TV to display more lifelike visuals by adjusting the brightness, colours, and contrast level based on scene by scene as well as frame by frame optimization. With these two features, M550L makes the users forget that they are facing a tech device and invites them into another fully immersive world.
Playing games with high input lag and slow response speed accessories will ruin the gaming experience. Toshiba TV comes with the Auto Low Latency Mode (ALLM) and Variable Refresh Rate (VRR) to level up your gaming experiences. With all the above features, you can enjoy a smooth and responsive gameplay. This model also provides users with a smooth viewing in game mode with the Ultimate Motion Technology.
Intelligent Auto View Pro is one of Toshiba TV's great innovations in picture quality. With a light sensor and a colour sensor, M550L can automatically adjust the brightness and colour balance fit to the environment and grant users a more comfortable and qualified viewing experience, no matter the environment. The iCare Blue Technology used in this model acts as an eyecare protection safeguard by shielding users' eyes from harmful blue light.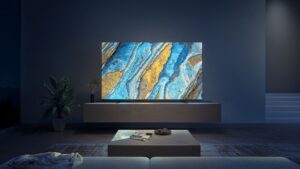 Toshiba TV prides themselves in innovating for the past 70 years and gives importance to sound nd picture quality, that's why fans can experience extraordinary audio through the REGZA Power Audio Pro technology, where REGZA stands for Real Expression Guaranteed by Amazing Architecture. M550L adopts the Power Bass Woofer at the back side and its sound is finely tuned for the balance among reality, powerful impact bass sound, and easy to listen clear voice. As a result, the total speaker output power is up to 49W (watts), and users can enjoy an impressive and supreme sound quality regardless of playing games or watching movies with this model.
Thanks to Google TV, users of the Toshiba TV M550L can also rapidly cast hundreds of movies and TV series from their smartphones, tablets, and laptops to their TVs, allowing them to find new content based on what they have already seen. The far-field voice capability is a useful addition to this model because it enables users to operate the TV without using their hands. Without having to deal with the stress of misplacing the remote, users can unwind and use their voices to access the content they want to enjoy.
The good news for Apple users is that Toshiba TV has included Apple HomeKit and Apple Airplay technology into M550L. The iPhone, iPad, and Mac all function flawlessly with this TV model. With the help of built-in Apple Airplay, users of Apple products can effortlessly operate their TVs from their iPhones, iPads, HomePod minis, Apple Watches, or Mac computers. Apple customers can also quickly enlarge images, videos, and other types of information from their Apple devices to the big screen.
The M550L has bezel-free and simple designs that are based on Toshiba TV's "Essential Beauty" philosophy to produce a contemporary and fashionable environment. A completely new reality will be experienced by viewers thanks to the immersive viewing offered by M550L thanks to the small design of the TV and wide viewing angle characteristics (only supported by 55″ and 65″ models). The most advanced model of Toshiba TV, the M550L, which offers a viewing experience that rivals that of a theatre and a significant audio boost, will elevate your level of lifestyle entertainment.