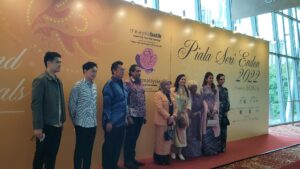 On September 4, 2022, at the Kuala Lumpur Convention Center, Yayasan Budi Penyayang Malaysia (PENYAYANG) will host the Piala Seri Endon Batik Design Competition Grand Finals (KLCC). The Malaysia Batik: Crafted for the World Movement is behind the competition's organisation. The 17th iteration of this esteemed Competition will occur in 2022. The Piala Seri Endon Batik Design Competition was created to identify talent in batik-making in Malaysia and to offer a platform for support, recognition, and encouragement.
There are three (3) categories in the competition:
Fashion category;
Soft Furnishing category; and3.
Handicraft category.
For each of the three (3) categories:
First prize is RM30,000.00
Second prize is RM10,000.00
Third prize is RM5,000.00
In addition, there are five (5) consolation prizes of RM1,000.00 each for every category.
The Grand Finals of the Piala Seri Endon was held at the Grand Ballroom, Level 3 Kuala Lumpur Convention Centre (KLCC)
Twelve (12) participants from the Fashion Category qualified for the Grand Finals.
A team of 17 judges were involved in the competition, starting from Round 1 to the Grand Finals. Judges for the Grand Finals were:
Prof. Dato' Dr. Mohamed Najib Ahmad Dawa (Chief Judge of the Piala Seri Endon Batik Design Competition)
Dato' Tom Abang Saufi
Edric Ong
Dr. Mandana Barkeshli
Andrew Tan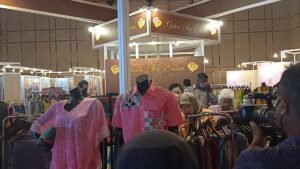 In 2022, BONIA came on board as the Official Presenter for Piala Seri Endon. As a brand that takes pride in its homegrown culture and roots, BONIA is proud to embark on this journey to nurture and preserve the national craft of Batik working alongside the prestigious Piala Seri Endon.
NIVEA is proud to return this year as PENYAYANG's Skin Care partner to co-host the Piala Seri Endon Competition, with the partnership having started in 2019. This year NIVEA has kindly sponsored generous door gifts for all guests and contestants of the event, which consists of essential NIVEA products to keep their skin radiant, and luminous because healthy, beautiful skin is the perfect skin is the perfect accessory for any outfit.
Royal Selangor, a Malaysia pewter brand with retail outlets world wide, has donated all the trophies since 2003.
Her Majesty Seri Paduka Baginda The Raja Permaisuri Agong Tunku Hajah Azizah Aminah Maimunah Iskandariah Binti Almarhum Al-Mutawakkil Alallah Sultan Iskandar Al-Haj is the Royal Guest-of-Honour at the Grand Finals.
PENAYANG would like to thank the following for their support
The Ministry of Tourism, Arts and Culture Malaysia
Kuala Lumpur City Hall
Bonia Corporation Berhad
Royal Selangor International Sdn Bhd
NIVEA
KPMG
Panel of Batik Experts
Media Supportes
RTM, ASTRO, Sin Chew, Kumpulan Karangkraf, The New Straits Time Press, The Star, Utusan Malaysia, BERNAMA, Social Media Agencies, and all other Media
The list of winners for the three categories (3) is as below:
1.Soft Furnishing
Jah Ai Sg Rual
Waris Seni
Kesuma
Consolation 1: Eemiee
Consolation 2: Stanley Wan
Consolation 3: Warna
Consolation 4: Sal X Wang
Consolation 5: Got 2 Go
2.Handicraft
Aliff.Ehfan
Brovaries
Trifecta A
Consolation 1: Syahrul Amirul Samsuri
Consolation 2: Inovatik
Consolation 3: Warisan Perak
Consolation 4: Eka Sukma
Consolation 5: Zurra N Emiee
3.Fashion Category
Mohd Nazil Arsan (Nostalgia Terindah)
Syahrul Amirul Samsuri (Seni Pusaka)
Mazlan & Yazie (Movimento)
Consolation 1: Fazosinnworld (The Last Rafflesia)
Consolation 2: Hafiz Hassan X Andro (Tragedy 1950)
Consolation 3: Zimie & A.V. (Bold Glam)
Consolation 4: Mohd Hafiz Drahman (Lembaran Cinta)
Consolation 5: Mohd Faizul Noorizan (Ukir Jendela)