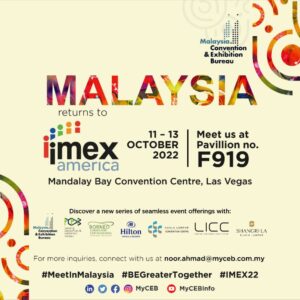 LAS VEGAS – 11 October 2022: The Malaysia Convention and Exhibition Bureau (MyCEB) will continue its mission to highlight Malaysia's top offerings in the business events sector at IMEX America 2022, which will be held in Las Vegas, USA from October 11–13, 2022. IMEX, which is the largest trade show for the international meetings, events, and incentive travel market in the United States, brings together over 3,000 suppliers and 4,000 buyers from all facets of the international meetings industry in order to create opportunities for high-yield business events and, more importantly, a setting for international cooperation.
Marking the tenth year of participation at this prestigious trade show, MyCEB has continuously taken this platform to attract more business opportunities and elevate Malaysia's position as one of the world's preferred international business events destinations. This vision augurs well with the establishment of the national bureau and is strongly supported by industry partners who will be co-exhibiting at the show, namely Penang Convention and Exhibition Bureau (PCEB), Kuala Lumpur Convention Centre, (The Centre), Borneo Convention Centre Kuching (BCCK), Langkawi International Convention Centre (LICC), Shangri-La Hotel Kuala Lumpur and Hilton Malaysia.
"Establishing the grounds of Malaysia as a top-of-the mind business events destination to the North America is a prominent step that mirrors the country's standing on welcoming high-profile conferences and corporate incentive travel to our destination in addition to the current track record we have successfully secured.  Malaysia's presence shall reflect our readiness in welcoming international business events back to the country whilst securing more leads upon business matching sessions. This is in line with the various campaigns and initiatives curated by MyCEB, including the 3R Initiative – Reset, Restart, Responsible, Meet in Malaysia Campaign, and MySafe Business Events Planner that will strengthen the sector's capability via comprehensive upskilling programmes and certifications, as well as the offering of generous incentives to our international delegates," says Dato' Sri Abdul Khani Daud, CEO of MyCEB.
Since our establishment, MyCEB has won total of 1,403 business events and 7.2% of the leads originated from North America, contributing an estimated $286 million USD of economic impact. As the country reopens its borders in April 2022, MyCEB successfully won 3 new business events estimated to contribute $6 million USD to the Malaysian economy. Happening in the next 2 years, Malaysia will be welcoming the Annual Conference of the International Association for Impact Assessment (IAIA) in 2023 and 12th World Federation of Chiropractic Education Conference in 2024 that is expected to receive 1700 delegates. Hence the reason for MyCEB and its industry partners' continued involvement in IMEX America for the past ten years, signifying the importance of the region's market to Malaysia.
Collaboration is a strategic move embraced by MyCEB as we follow the last year's signing of agreement with Thailand Convention Bureau (TCEB), Thailand Incentive and Convention Association (TICA), Seoul Tourism Organisation, and Taiwan External Trade Development Council (TAITRA) under the Asia Convention Alliance, all parties have reached a mutual consensus to meet and discuss the development and way forward for the alliance during IMEX America. On a global front, as part of Hybrid City Alliance, MyCEB is making progress for Kuala Lumpur in the HCA-ICCA Global Meetings Protocol.
Continuing efforts of sustainability in mind, MyCEB also takes part in the Planet and People Pledge initiated by IMEX, which is a commitment to benefit people and the environment through telling stories and taking action. The national bureau is committed to reduce waste by using sustainable booth materials, reducing usage of single-use plastics and papers, including brochures as well as offering sustainable giveaways. It's part of a collective effort in creating a low impact trade show.
To find out more about Malaysia and its range of business events offerings at IMEX America 2022, visit booth F919 or go to www.myceb.com.my for further information.