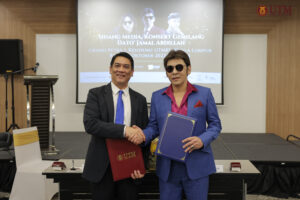 KUALA LUMPUR (Oct. 12): The UTM Holdings Sdn. Bhd. and UTM Hotel & Residence are happy to announce that a 'Konsert Gemilang Bersama Dato' Jamal Abdilllah' will be held on Friday, December 9, 2022 – 8.45pm at the Grand Banquet Hall, Residensi UTMKL.
The concert is held in conjunction to promote Residensi UTMKL as a multipurpose event space and to raise funds through UTM Endowment for underprivileged students of University Technology Malaysia. The concert features Malaysia Legendary King of Pop Dato' Jamal Abdillah with his famous songs including the all-time favourite 'Kekasih Awal dan Akhir', 'Seroja', 'Sepi Seorang Perindu' and many more. The legendary singer will be accompanied by a 7-piece band. Dato'Jamal Abdillah's sons Zaki Yamani & Osama Yamani will also be on stage with his greatest hits such as 'Gadis Melayu'.
UTM Holdings Sdn. Bhd. is honoured to partner with Dato' Jamal Abdillah to collaborate in this concert due to his continuous popularity and high popular demand. UTM Holdings Sdn. Bhd. has received an overwhelming response from clients, supporters and guests about the Dato' Jamal Abdillah concert and we tend to provide entertainment to the public especially our community surrounding UTMKL.  The concert also aims to raise funds for our CSR Program for the year 2022 by allocating 5% from the ticket sales which will be donated to the UTM underprivileged students. The involvement of individual guests, corporate groups and NGO's are welcome to contribute to achieve these objectives.
This concert is open to the general public, the tickets are on sale ranging from 1st Tier at RM350.00 per seat, 2nd Tier at RM250.00 per seat. 3rd Tier at RM200.00 per seat and 4th Tier at RM150.00 per seat. We also offer a limited to100 audience the opportunity to join our exclusive Buffet Supper after the concert at The Sage @ Sixth Restaurant with Dato' Jamal Abdillah with a special price of only RM50.00++ voucher. Ticket holders are also entitled to a special rate for accommodation at only RM140++ inclusive breakfast.
The Sage @ Sixth Restaurant also offers a special buffet dinner for only RM50++/pax on the day of the concert featuring a sumptuous spread of local and international cuisines. The restaurant is a perfect venue for you to bring your family and clients to dine in a comfortable and exciting atmosphere for lunch and dinner.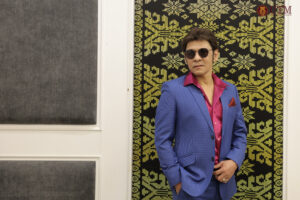 About Dato' Jamal Abdillah
Dato' Jamal has raked up several awards. For his outstanding achievement and contribution to the entertainment industry he was awarded 'Anugerah Pencapaian Sepanjang Hayat' (ABPBH 2008) which he received in 2009 during the award night of 'Bintang Popular Berita Harian 2008' in Genting Highland.
After taking a break for almost a year, he decided on a solo concert named 'Konsert Kembara Seniman' for his fans at Panggung Sari, Istana Budaya to kick start the year of 2010. Following this, another solo concert named 'J2011 Lagenda' was held at the same venue and another concert at Istana Budaya from 2012 to 2022. This time around, his concert focused on his vocals with music arrangements that touched and captivated the hearts of many in the audience. In September 2011 he was invited to perform in Singapore where he has not set foot for almost 30 years. After 12 years, for the New Year 2023, Dato Jamal Abdillah was invited again to perform in Singapore. The concert 'Aku Jamal…PERJALANANKU, at ESPLANADE HALL, Singapore on the 1st. January, 2023.
He was given the honour to be the first Malay artist to perform a solo concert at Singapore Indoor Stadium. A stadium that could fill 3,500 people was packed. Dato' Jamal Abdillah, singer cum actor with a tumultuous past. His journey continues and he is here to stay!
The hotel will continue to host other concerts in the future with local and international artists.
To purchase the ticket, kindly contact our Official Ticketing Partner MyTicket Asia @ www.myticket.asia or reach Main Organizer, Rusle 012-610 1704 & Rodzie 019-2243821