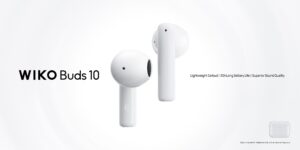 KUALA LUMPUR, 18TH NOVEMBER 2022 – WIKO Malaysia is pleased to announce the release of WIKO Buds 10, their newest and trendiest product, which will elevate mobile music listening to a whole new level. For those coveted delightful music listening periods, WIKO lovers may enjoy a battery life of 30 hours, lightweight earbuds that fit nicely, and exceptional sound clarity. Starting today, all WIKO authorised reseller retailers will have the WIKO Buds 10 for sale for a reasonable price of just RM129.
"As the nation has gone back to operation as usual, more and more people are having to travel daily for either work, leisure, or studying purposes which is why we wish to provide everyone the chance to have a convenient, comfortable and immersive listening experience when out and about. At a price accessible to all, we hope Malaysians get to take their music experience to the next level. We are looking forward to developing and offering our Malaysian fans more French chic and innovative products in the near future," said Carlson Leong, Deputy Country Director of WIKO Malaysia.

The WIKO Buds 10 is designed to be snug and well-fitted without the fear of it dropping off. Moreso, the Buds 10 is made lightweight with each side weighing only 4.2g so users would barely feel them when worn, making it easy to wear for long hours.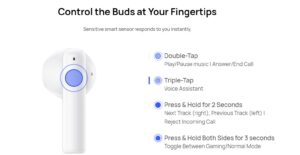 Enjoy long hours of listening time with the Buds 10, as it features 30 hours long battery life with the charging case. The buds alone can last up to 6 hours playback on single charge for users to have non-stop music parties in their ears.

Indulge in superior sound quality as the Buds 10 adopts 12mm super dynamic drivers with copper-coated aluminium armature that would induce a magical and desirable audio quality when listening to music. On top of that, the Buds 10 features dual-mic noise cancellation which isolates ambient noise from your voice calls as well as ensures users can enjoy their music uninterrupted by external sounds.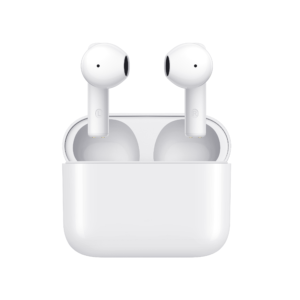 The WIKO Buds 10 includes an auto-connect feature which automatically pairs the Buds to the paired device once the case is opened, for a convenient and instantaneous connection. The Bluetooth 5.2 connection embedded in the Buds 10 guarantees a stable operation, enabling users to enjoy their audio content without disturbance. Gamers will be able to experience immersive gaming with the Buds 10 as it supports latency of as low as 113ms.
Users need not be wary of sudden raindrops or sweating when faced with scorching sun as the WIKO Buds 10 includes IPX4 Water Resistance so the content being played at any time can be enjoyed uninterrupted.
The WIKO Buds 10 enables direct control through the buds itself as it includes a sensitive smart sensor that responds instantly.  
Here is information on the price and availability of The WIKO Buds 10: 
Users can also stay up to date with the latest promotions and product specifications on WIKO Malaysia's official Facebook page and their official website.