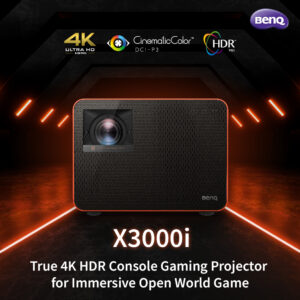 The best audio-visual performance on a large projected scale is offered by the X3000i, which BenQ, the leading projector manufacturer in the world, unveiled today. Open-world games that are infused with living realism and offer gaming scenes with 100% DCI-P3 wide colour range coverage are available to players thanks to BenQ's patented CinematicColorTM technology. With input lag as short as 4ms, this technology also includes a treVolo surround sound system. The BenQ X3000i 4LED 4K HDR Gaming Projector is now available for purchase by all Malaysians for just RM11,999.00 from their official online stores on Shopee and Lazada.
"Leading the X series with an unprecedented combination of cinematic images and realistic sounds, along with the lag-free control that comes from 4ms response time at 240Hz frame rate," said Conway Lee, President of BenQ Corporation. "X3000i invites gamers to expand infinite universes and realize their full potential."
For a truly immersive gaming experience, X3000i draws gamers deeply into the plot with authentic colors balanced with true 4K UHD, high 3000-lumen visual brightness, crisp 500,000:1 super high contrast with Dynamic Black algorithms, 3D readiness, and projector-optimized HDR with HDR10 / HLG support ensuring futureproof visual performance, while the 4LED light source with auto color calibration guarantees years of gaming enjoyment.
Adding to the visual with audio enhancement, X3000i fully envelopes players in powerful 5W x 2 stereo speakers that are tuned by BenQ's treVolo audio team and enhanced by Bongiovi DSP (Digital Signal Processor) with Dynamic Stereo Enhancement, offering aural details with more surrounded, three-dimensional game sounds. Audio can be output to an external sound system via HDMI eARC for the ultimate cinematic experience.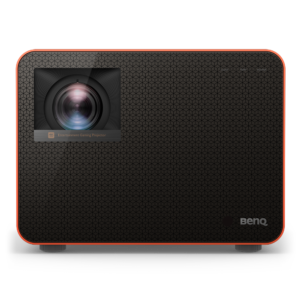 The realness of all interactions can be further discovered through role playing, first-person shooter, and sports games as X3000i is equipped with specially-designed preset game modes. The depth, clarity, definition, and presence of the surrounding deep bass background music, approaching footsteps and clear vocals are emphasized respectively, with the true colors the games originally intend to display. These carefully calibrated settings are also applicable in models such as TK700STi and TK700 in the TK as well as TH Series, complementing a full projector lineup that's dedicated to gaming.
Styled in dynamic design to complement any gamer's décor and setup flexibility of 1.3x zoom, 2D keystone, and advanced AV connectivity, X3000i's 4LED light source provides over 30,000 hours or 10+ years of vibrant colors and gorgeous gaming quality without lamp replacement cost. Console gamers who play for hours on can carefully explore the storyline and show the world who they aspire to be with no hassle.
For more information on BenQ's X3000i 4LED 4K HDR Gaming Projector  go to https://bit.ly/3EMYXwG. Those who wish to purchase the product may do so at BenQ's official online stores on Shopee and Lazada.
To learn more about all of BenQ's premium offerings, visit BenQ Malaysia and follow @benq_my on Instagram and Facebook.