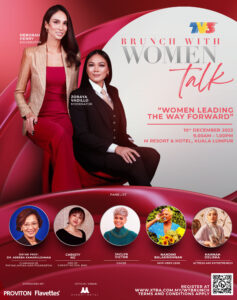 Venture into female empowerment issues when TV3's chat show Women Talk hosts a special 'Brunch With Women Talk' event on 10 December 2022 at the M Resort & Hotel in Kuala Lumpur beginning at 9.00 a.m. The event is also live streamed on TV3's official YouTube page under the theme 'Women Spearheading The Way Forward,' offering an exceptional panellist lineup of notable women who are leading the change for women.
Being of importance to the talk show programme Women Talk, this event is to further provide the opportunity for women alike to connect with amazing icons as they show mutual support in this platform for women's voices and concerns. With 250 in attendance, the brunch event features great individuals including Chairman of Yayasan Aids Malaysia, Datuk Prof. Dr. Adeeba Kamarulzaman, Chief Executive Officer of Christy Ng Sdn. Bhd., Christy Ng, Singer, Jaclyn Victor,  together with Head of SAYS Video Unit, Nandini Balakrishnan..
This special event explores topics of interest such as Post Pandemic: The New Outlook in Life, Giving Yourself The Gift of Self-Love & Self-Care, Surviving The "Mad Men World", Mental Health & Wellness, Leading In Heels: Dressing & Feeling Successful, The Rise of SME & Social World, and Surviving The World of Marriage. To add to the excitement, the event closes its curtains with song performances from Jaclyn Victor.
'Brunch With Women Talk' is sponsored by Proviton and Flavettes as co-sponsors, as well as M Resort & Hotel Kuala Lumpur as official location of the event. The production team of Women Talk is led by Puan Shahila Shah as head of production, together with Datin Elaine Daly and Said Thani as producers, whereas Deborah Henry and Zoraya Vadillo take charge as hosts of the programme.
Continue watching the second season of Women Talk every Saturday, at 5.00 pm on TV3, and stream live in HD at www.tonton.com.my and on TV3's official YouTube channel. For more information and the latest developments, visit www.xtra.com.my and follow the official social media sites Facebook, Instagram & Twitter at @TV3Malaysia.