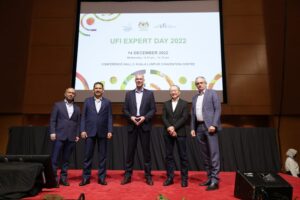 Malaysia is advancing in the sector as the country welcomes more business events. On December 13 and 14, 2022, Mr. Kai Hattendorf, Managing Director of The Global Association of the Exhibition Industry (UFI), visited Kuala Lumpur for the UFI Expert Day 2022, which was hosted by the Malaysia Convention & Exhibition Bureau (MyCEB).
"Malaysia is on course to highlight its immense potential as a growing exhibition destination in the region. I believe that the hosting of UFI Expert Day is a great opportunity to highlight our cutting-edge facilities and demonstrates that Malaysia is more than ready to deliver significant contributions in the sector. This initiative enables the nation's business events industry to obtain latest update on exhibition industry growth and trends and act as a knowledge sharing platform for industry stakeholders to share their insights and ideas in uplifting Malaysia's exhibition profile in the region. It was, in my opinion, a genuinely rewarding opportunity for UFI and Malaysia," says Dato' Sri Dr. Abdul Khani, CEO of MyCEB.
In the wake of its business events industry's recovery, Malaysia's government, associations and industry players are teaming up to support the needs and long-term goals of international organisers and planners. Following the country's continued commitment to bring together members and exhibition industry professionals in person, Kai Hattendorf on behalf of UFI took the advantage to announce that Malaysia is chosen to be the host of the UFI Asia Pacific Conference 2023 on the 2nd and 3rd March in Kuala Lumpur, Malaysia. This visit from UFI is timely in boosting Malaysia's business events industry and proves that the industry is ready to re-emerge stronger than before in the coming decade.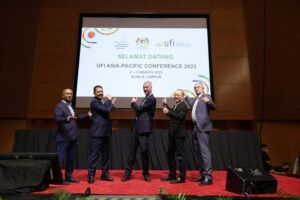 "Following our recent MoU with MyCEB to introduce the UCP qualification in Malaysia, it is amazing to see the dedication of both organisations to promote the growth of the exhibition industry. The UFI Expert Day states a strong commitment between MyCEB and UFI in connecting more exhibitors, attendees, stakeholders, and policymakers especially in the Asian region. We're happy to announce as well that the 2023 UFI Asia-Pacific Conference will take place in Kuala Lumpur on 2 – 3 March 2023. Being a great location with so much growth potential, modern exhibition venues and well-developed supporting infrastructure, MyCEB is an ideal host for our first in-person conference in the region after the pandemic," says Kai Hattendorf, Managing Director and CEO of UFI," says Kai Hattendorf, Managing Director of UFI.
MyCEB believes in embracing the role as a driver of change and being proactive in addressing concerns and remain conscious of the needs and expectations of the industry. The convergence of UFI experts proves that the national bureau is prepared to assist its industry stakeholders to strive and further improve Malaysia's performance in the global market.
Around 50 local top corporate and exhibition industry experts comprising of exhibition organisers, exhibition centres, government agencies, associations and service providers related to the exhibition industry attended the event and fully demonstrate the country's growth potential to become the preferred exhibition destination in the region.
The event made notable marks during a constructive dialogue session, 'Exhibition and Beyond' moderated by Mr. Noor Ahmad Hamid, COO of MyCEB, and insights sharing from key opinion leaders such as Dato' Sri Dr. Abdul Khani Daud, CEO of MyCEB; Mr. Kai Hattendorf, Managing Director/CEO of UFI; Dato' Vincent Lim, President of The Asian Federation of Exhibition and Convention Associations (AFECA); and Mr. Gerard Leeuwenburgh – Country General Manager Malaysia of Informa Markets.