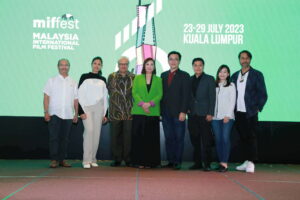 The 6th Malaysia International Film Festival (MIFFest) press conference was conducted today at PARKROYAL COLLECTION KL, the festival's official hotel partner. The press conference announced a number of activities for this year's festival, including the reveal of this year's theme [New Take], the first collaboration with the BMW Shorties, TikTok Malaysia as MIFFest's official partner, the renewed collaboration with the Far East Film Festival (FEFF) in Udine, Malaysia's renowned actor Mr. Bront Palarae as the festival's ambassador for the fourth time, and more. Bront Palarae, a well-known Malaysian actor, has served as the festival's ambassador four times and counting.
Mr. Bront Palarae as the festival's ambassador for the fourth time
Bront Palarae, MIFFest ambassador, was also on hand and said, "Now that we are well into the post-epidemic era, there is nothing more needed in the industry than more passionate and creative filmmakers and storytellers. I sincerely hope that the first three years of the epidemic have not caused creators to lose faith in cinema, but to look forward to this moment, ready to start their [New Take]."
The BMW Shorties officially partners MIFFest for its Short Films Programming
MIFFest also announced a new partnership with the BMW Shorties, a creative initiative by BMW Group Malaysia to discover and support emerging local talents in film and digital content in Malaysia. As the most recognizable short film competition in Malaysia, the BMW Shorties has been ensuring a sustainable industry development, optimization of talent visibility and the revival of the Malaysian cinema. The platform has served numerous emerging filmmakers and digital content creators to creatively bring their ideas and stories to life.
MIFFest founder and president Joanne Goh said, "This partnership is great news for the whole industry, as MIFFest's international platform will allow the next generation of Malaysian filmmakers to take full advantage of this opportunity to showcase their talent and tell their stories with a tenacious and indomitable spirit. It also serves as a steppingstone for their professional and creative careers."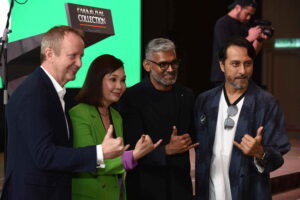 Hans de Visser, Managing Director of BMW Group Malaysia said, "We drew inspiration from our 2022 theme, RE:IMAGINE, where a new generation of creative talents incorporated unique experiences from the pandemic into their storytelling. Their creativity and adaptability showed us that innovation can emerge from any circumstance, with tremendous potential waiting to be unearthed in this ever-evolving creative industry. Much like the lens of Forwardism embraced by the BMW Group, the BMW Shorties thrives on challenging today's common conventions, with creative thinkers who dare to bring forward to the present the breakthroughs of tomorrow. That is why our theme for this year is EVOLVE."
The Grand Prize Winner of the short film and digital content competition will receive RM80,000 in production grant, and filmmaking talents will also be recognized across a range of supporting awards. The BMW Shorties will officially open for entries from April 1, 2023. For more details, please visit MIFFest's official website and social media platforms.
Continued collaboration with Udine Far East Film Festival (FEFF) in Italy
MIFFest and the festival's partner Udine Far East Film Festival in Italy, have continued to deliver good news this year, with special screenings of Malaysian films and exchanges between filmmakers. Both festivals hope to continue to bring new sparks through the concept of "From East To West". In addition, MIFFest will continue to support local films, so that more people from all over the world can see the beauty and significance of Malaysian cinema together.
MIFFest has also confirmed that it will be held at Lalaport BBCC from July 23 to 29 this year, and the awards ceremony, the Malaysia Golden Global Awards (MGGA), will be held at Zepp Kuala Lumpur on July 29.
For more information about the 6th MIFFest 2023, please visit miffest.com.my.