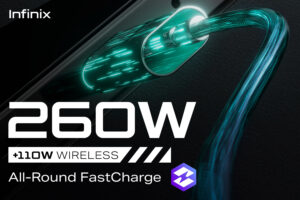 Infinix today announced the release of its revolutionary "All-Round FastCharge" solution, which gives users flexible, safe, and intelligent fast charging experiences across all settings, along with 260W All-Round FastCharge and 110W Wireless All-Round FastCharge. The 260W All-Round FastCharge can charge a phone from 0% to 25% in only one minute and from 0% to 100% in about 7.5 minutes[1]. A device may be charged to 100% with the 110W Wireless All-Round FastCharge in about 16 minutes[2]. In the 5G age, where power consumption is at an all-time high, our ground-breaking All-Round FastCharge technology can satisfy customers' various charging requirements in all conditions.
"Infinix has always been at the forefront of developing fast charging technologies that meet the evolving needs of our customers. We always prioritize the overall charging experience while leading the development of fast charge technologies, including our previous industry-leading technologies, the 160W FastCharge and 180W Thunder Charge. Building on this, we are excited to introduce the 260W & 110W-Wireless All-Round FastCharge technology and All-Round FastCharge solution, which sets a new benchmark for fast charging. With this innovation, we aim to provide our users with a supreme charging experience." – Liang Zhang, Deputy General Manager at Infinix.
260W All-Round FastCharge
Infinix has developed a new 260W All-Round FastCharge technology that improves mobile phone fast-charging with breakthroughs in charging architecture, charger design, and the charging cable.
The charging architecture uses a 4-Pump Intelligent Circuit Design that intelligently identifies power requirements and allocates the number of charge pumps needed to work, and the upgraded 12C high rate 4400mAh battery with a multi-electrode lug structure, which ensure a high charging conversion efficiency of up to 98.5%[3], while also increasing battery durability. The battery retains more than 90% of its energy after 1,000 cycles[4].
The charger uses triple GaN material PFC + AHB innovative circuit architecture, which has high power density, small size, more intelligent and safe charging control, and a wider range of chargeable products. The charging cable adapts to the Emarker identification chip, with new interface structure design. This cable can carry a current up to 13A[5], and when combined with Infinix's customized fast charging protocol, ensures that 260W high-power extreme fast charging is possible.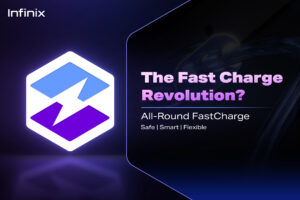 110W Wireless All-Round FastCharge
Infinix's new 110W Wireless All-Round FastCharge technology can fully charge a phone in just 16 minutes[6]. By using custom-made small-sensitive coils that have fewer coils than traditional designs and wider coils in the same space, Infinix overcomes traditional architectural limitations, reduces coil internal resistance, and subsequently lowers phone temperature rise, increases peak power charging time, and improves wireless charging efficiency.
The custom-made 110W wireless charger features a dual coil design for both vertical and horizontal charging. The charge station also employs a fan at the base for silent air-cooling, which improves heat dissipation efficiency in typically high heat areas.
Infinix's All-Round FastCharge Solution
Infinix has developed an innovative charging solution called the All-Round FastCharge, which takes charging technology to a new level. The company's long-term plan focuses not only on speed, but also on creating an all-round charging experience that is fast, flexible, smart, and safe. With this solution, consumers can charge their devices in a variety of ways, wherever they are in the world, without being tethered to a power source. The goal is to provide consumers with a seamless and convenient charging experience that meets all their needs.
In order to provide consumers with an all-round charging experience that is fast, flexible, smart and safe, Infinix's first generation All-Round FastCharge solution is packed with features. The solution offers both wired and wireless fast charging, as well as reverse charging, bypass charging, and multi-protocol charging. With wired and wireless dual fast charging, users can enjoy a supreme charging experience on-the-go. The reverse charging function also allows users to transform their phone into a portable charger. Infinix is compatible with multiple fast charging protocols, including PD 3.0, and offers intelligent charging and monitoring features such as night charging and bypass charging to extend battery life and reduce heat. In terms of safety, Infinix's solution includes over 140+ protection mechanisms and 20+ temperature sensors, ensuring safe operation even in extreme environments.
Users will be able to experience the All-Round FastCharge with Infinix upcoming NOTE series. Through innovation and a focus on delivering a high-quality consumer experience, Infinix continues to push the boundaries of cell phone charging, offering even faster and safer fast-charge solutions to consumers worldwide.
For more information about Infinix Malaysia, please visit their official website, Facebook page, Instagram page and  TikTok channel.