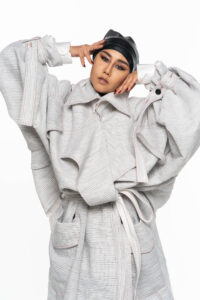 Malaysia's reigning Queen of Rock, Ella, suddenly became a major subject when she removed all her social media postings and stayed silent. She later held a special press conference to address the press on the topic and announced the 'JILID AKHIR: ELLA PUTERI KOTA' performance to commemorate her 35 years in the music industry, which would take place on June 10, 2023 at the Axiata Arena Bukit Jalil.
Concert tickets went on sale on March 13, 2023 at 12:00PM. In 2 hours, more than 50% of the tickets were sold. The organisers, Hitman Solutions and RockQueen had to temporarily stop all ticket sales because more than 25,000 eager ticket buyers have been queuing on the website causing the ticket purchasing process to be interrupted. However, the organisers were quick to resolve it and the ticket sales resumed at 5:00PM.
This, however, did not in the least discourage Ella's fans from continuing to queue and buy the tickets, and at 7:00PM, 90% of the tickets were already sold and only the Rockzone category remained. All the tickets for JILID AKHIR: ELLA PUTERI KOTA concert was officially sold out at 12:00PM the next day on March 14, within 24 hours after the ticket sale started.
STATEMENT FROM MR. ROHIT RAMPAL, CEO & FOUNDER OF HITMAN SOLUTIONS:
"In just 24 hours, tickets to the JILID AKHIR: ELLA PUTERI KOTA concert were sold out, breaking a new record for any Malaysian artists that have held their concerts at Axiata Arena. This just proves how amazing Ella's fans are and I'm in awe at how determined they were at getting the concert tickets. Without a doubt, Ella is definitely our Queen of Rock!"
"To be honest, I myself can't wait to see Ella perform on stage and rock it out with her fans this June 10, 8:00PM at Axiata Arena Bukit Jalil."
STATEMENT FROM ELLA:
"I just want to say a million thanks to my management, RockQueen and also the organiser, Hitman Solutions for making this concert a reality.
I'm very excited, humbled and utterly grateful for the incredible ticket sales."
"I'm just thankful to all my fans from all over the world, especially those from Malaysia, Singapore, Indonesia and also Brunei for showing such great enthusiasm in wanting to celebrate this coming concert with me.
I can't wait to give my all at the concert and hopefully the fans can pray for the wellbeing of all the parties involved so that this event will go on smoothly without any hiccups."
"For those who have missed the opportunity to get the tickets, InsyaAllah, the management is working on a solution that will satisfy everybody.
Peace. Love. Rindu."