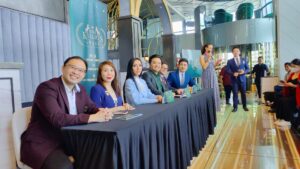 A press conference was held to launch the highly anticipated business award event, The Knights Award 2023. The conference took place at the Vogue Lounge @ KL Gateway Mall, Kuala Lumpur, and featured prominent organisations and public figures who are supporting this important initiative in their respective capacities, which ranged from the Royal Patron – YBM Tan Sri Tengku Razaleigh bin Tengku Mohd Hamzah to the Council of Lords – Dr. Zyro Wong, Puan Sri Datuk Prof. Dr. Shariffa Sabrina Binti Syed Akil, Dato Hj Ismail Nordin, Datuk AT Kumararajah, Juan Jose Delagado, Leng Yein, Dr. Jon Low and Kelvin Chan Kin Man.
The official digital media partners include World of Buzz, Lobak Merah and Noodou. Various media partners and press were also present to cover on the event.
The Knights Award 2023 is a prestigious business award event that seeks to recognize the outstanding accomplishments of businesses in South East Asia. The winners of the awards will be celebrated in the Ennoblement Ceremony of the event for their exceptional performance in their respective industries. These leaders are emblematic of excellence, innovation and sustainability.
https://www.youtube.com/live/trtrg5DKD_Q?feature=share
As one of the highlight events of 2023, it signifies the growth and development of the business community that constitutes the backbone of the Malaysian economy. The event promises to be a showcase of the best of Malaysian business standards, and an opportunity to inspire others to strive for excellence and growth.
"We are honoured to launch The Knights Award 2023, and we believe that it will be the stepping stone to a promising economic growth in South East Asia," said Dr. Zyro Wong, the President of The Knights Award. "We are grateful for the support and endorsement of our Royal Patron and Council of Lords. We are committed to making this event a success."
The Knights Award 2023 will be held at the St. Regis Hotel, Kuala Lumpur in June 2023 and will feature various categories of awards. The award ceremony promises to be a memorable occasion with the attendance of business leaders, celebrities, key opinion leaders and other significant stakeholders.
The press conference provided an opportunity for the organiser to unveil the details of the award categories, nomination process and selection criteria. It had also provided an opportunity for attendees to ask questions and provide feedback on the event.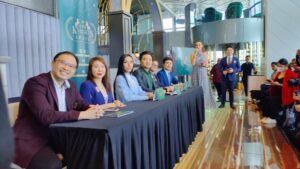 First row left hand side:
– Lady Sunshine
– Datin Maylene
– Tengku Normah Albaraqbah
– Dato Lim Chiew Ah
– 王锋艺博士
– Prince Naravong Norodom
– Kelvin Chan Kin Man
– Dato Sri Robert Lim
– Dato Nazifuddin Najib
后排左起
– 张水通
– 洪纹绽
– Traccie Chan
– Dr. Jon Low
– Esther Hor
– 林云
– Dato Hj Ismail Nordin
– Andy Lau Tin Long
– Eunice Ng
– Evonne Loo Hui Juin
– Shien Ng
– Bon Zainal
– Karl Tham
For more information about The Knights Award 2023, please visit www.theknightsaward.com. Should there be any inquiries, kindly contact Gabriel (Communication Director) at
+6 011 2332 3671.