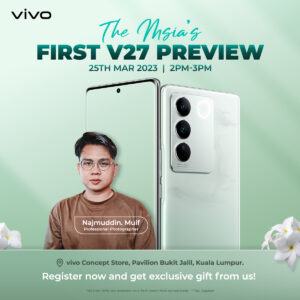 This Saturday, March 25, 2023 from 2PM to 3PM, vivo Malaysia will host an exclusive vivo V27 preview session for Malaysians to experience the vivo V27. The vivo V27 series is a fashionable smartphone with the most potent camera system in its series to date. It comes with the new Aura Portrait with strong photography capabilities and an Emerald Green body that can change colour.
The session will be held at vivo Concept Store, Pavilion Bukit Jalil, Kuala Lumpur. Participants will also be treated with a photography workshop by Najmuddin Muif, a professional photographer, where he will guide participants and provide tips on capturing extraordinary photos using the vivo V27.
To participate, simply register here. Participants are also entitled to an exclusive gift when they attend the preview session.
For more information, follow vivo Malaysia's official Facebook Page.
About vivo
vivo is a technology company that creates great products based on a design-driven value, with smart devices and intelligent services as its core. The company aims to build a bridge between humans and the digital world. Through unique creativity, vivo provides users with an increasingly convenient mobile and digital life. Following the company's core values, which include Benfen*, user-orientation, design-driven value, continuous learning and team spirit, vivo has implemented a sustainable development strategy with the vision of developing into a healthier, more sustainable world-class corporation.
While bringing together and developing the best local talents to deliver excellence, vivo is supported by a network of R&D centers in Shenzhen, Dongguan, Nanjing, Beijing, Hangzhou, Shanghai and Xi'an, focusing on the development of state-of-the-art consumer technologies, including 5G, artificial intelligence, industrial design, imaging system and other up-and-coming technologies. vivo has also set up an intelligent manufacturing network (including those authorized by vivo), with an annual production capacity of nearly 200 million smartphones. As of now, vivo has branched out its sales network across more than 60 countries and regions, and is loved by more than 400 million users worldwide.
*"Benfen" is a term describing the attitude on doing the right things and doing things right – which is the ideal description of vivo's mission to create value for society.
Stay informed of latest vivo news at https://www.vivo.com/en/about-vivo/news