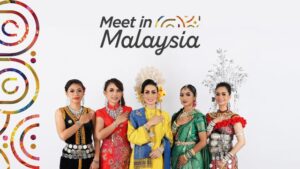 With assistance from the Malaysia Convention & Exhibition Bureau, representatives from Taiwan's WOW Prime Company, a food and beverage firm, are making Malaysia their preferred location (MyCEB). From 26 March through 28 September 2023, the incentive trip will arrive in waves. A total of 3,000 people will take part in the trip, which is expected to have an RM57.9 million economic effect on the nation.
The participants of WOWprime Corporation Company Incentive Trip 2023 will be treated to a relaxing 5-star resort stay at Lexis Hibiscus Port Dickson, the resort that laid claim to not one, but TWO Guinness World Records with its unique features that would certainly give it an edge in the global hospitality industry. They will be receiving a plethora of offerings such as Melaka Historical Tour visiting the cultural heritage sites and experience the night market at Alor Street. An array of shopping experience at the duty-free Genting Premium Outlets and Genting Sky Avenue Complex, followed by local chocolate product shopping, and varieties of photoshoot session at the Chinatown, Kwai Chai Hong, Saloma Link bridge, KLCC and National Palace.
"Thanks to the support of our Taiwanese participants, MyCEB is honoured to announce that we are the proud host to 3,000 participants of WOWprime. This is a great motivation for us to further prepare and welcome our participants in the best capacity! We hope to get more Taiwan business visitors to make Malaysia as your preferred business events and corporate incentive destination," said Dato' Sri Dr. Abdul Khani Daud, Chief Executive Officer of MyCEB.
"Having WOWprime augurs well with our target in welcoming 114,000 corporate meetings and incentive participants for 2023, and we will continuously provide the support to meet your requirements so that each participant who visits Malaysia will be inspired by the destination and its endless experience from our distinctive uniqueness in each location," he continued.
As an English-speaking yet multilingual country with vibrant, emerging economic and business centre, recognised as one of the world's friendliest nations, and a great value for money destination, Malaysia has all the first-world infrastructure you want in a destination that makes it easy to stage world-class events successfully, often attracting record attendances.
MyCEB's strong support, proven capabilities and creativity has paved the way for local Destination Marketing Companies (DMCs) to bring in even more corporate incentive groups in the future.