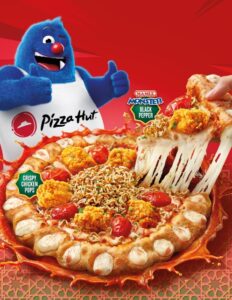 In partnership with Mamee Monster, one of Malaysia's most recognisable snacks, Pizza Hut Malaysia is now selling the brand-new Spicy Krunch Pizza. The Hot Krunch Pizza is a unique pizza recipe that combines fantastic flavour with sweet memories on a pan.
Emily Chong, Chief Marketing Officer of Pizza Hut Malaysia said, "This collaboration of two timeless  brands-Mamee Monster and Pizza Hut may seem rather unexpected, but we truly feel this remarkable  combination would be the centerpiece that everyone, regardless of age, would enjoy at buka puasa  and Hari Raya gatherings.
"Food is more than just nourishment, it is an experience and pizzas are meant to be experienced  together. This is why here in Pizza Hut, we consistently work on innovating our pizzas to make every  meal for our customers a memorable one," she said.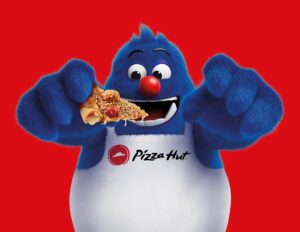 The Spicy Krunch pizza features a stuffed crust pizza with crispy chicken balls and a special spicy  sauce – it is served alongside the signature Mamee Monster Black Pepper snack noodle which can  be sprinkled all over for a crunch-filled gastronomic time.
Just like how Hari Raya is "setahun sekali", this pizza is also a once in a lifetime experience. Do not miss our Ramadan offer and order before 4.30pm between 22 March to 21 April to enjoy RM7 off your  order.
Big family? Worry not. The Looooooooong Party Box has it covered! The 1-metre-long pizza caters  for a crowd of 10, making it the perfect option this festive season. Not just that! From March 27 to April  13, submit your longest family portraits and stand a chance to win a Raya Looooooooong Party Box  kenduri by Pizza Hut. Largest family wins!
Order now through the Pizza Hut App or get to the nearby Pizza Hut restaurants for dine-in or take away. For more information, please visit www.pizzahut.com.my