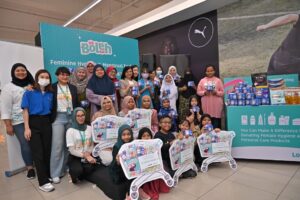 Lotuss Stores (Malaysia) Sdn Bhd (Lotus's Malaysia) launched its Sis Boleh Sis campaign from February 26 to March 8, 2023, to honour all women for their accomplishments and efforts in honour of International Women's Day, which featured as its subject the phrase "Embrace Equality."
Further driven by its #KitakanJiran spirit to help raise awareness on menstrual equity and feminine hygiene amongst teens in underserved schools, Lotus's Malaysia ran a two-week Sis Boleh Sis personal care product collection drive in nine of its stores, namely Lotus's Kepong, Cheras, Pulai Hartamas, Alor Setar, Kota Bharu, Seremban Jaya, Melaka Sentral, Desa Tebrau, and Tanjung Pinang. The collection aimed to provide more than 3,000 schoolgirls from 19 of Lotus's Malaysia's Adopted Schools with sanitary napkins, deodorant, pantyliners, feminine wash and other personal care items.
The retailer also contributed over 100 items of its own brand Aliv range as starter kits to the collection drive, in addition to the contributions from Lotus's customers.
Besides this, Lotus's also teamed up with Kotex Malaysia to host 50 students and teachers at its Lotus's Kepong store for the handing over ceremony for five of its adopted schools in the Klang Valley. At the event, Kotex delivered a menstrual hygiene awareness talk to students and equip them with the knowledge on physiological changes, period cycle, right ways to managing periods hygienically, period myths and body positivity.
"Many of our adopted schools are located in rural areas and most of the time the students have limited resources and awareness on personal hygiene products or even the know-how on managing the changes they're facing physically and emotionally as they mature. Thanks to the support from customers and Kotex, we are able to do more for young girls in our adopted schools, giving them confidence and preparing them for their transition into womanhood", said Azliza Azmel, Executive Director, Corporate Services.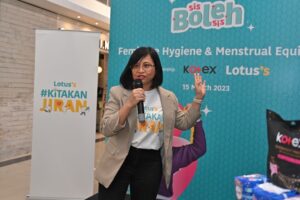 As the leading feminine hygiene brand, Kotex Malaysia is always developing new products and strategies to better serve its consumers. Its flagship Kotex 'She Can' Initiative aims to fight period stigmas and promote access to education in schools and communities by helping women gain equal opportunities.
"We congratulate the Lotus's team for the successful rollout of the Sis Boleh Sis campaign. It jives with Kotex's mission to ensure that a period never gets in the way of a woman's progress. Being a part of this campaign has allowed us to scale our in-school menstrual hygiene education programme which we have been running for over two decades. This is crucial because our Kotex Period Poverty and Stigma Study revealed that 1 in 2 girls feel like skipping school when she's menstruating and over 68% of girls doesn't feel comfortable discussing her period openly. As period stigma and taboo are still prevalent in our community, we welcome more intervention from partners like Lotus's to overcome this challenge together. We pledge to continue our fight against period stigma and poverty both through education and supporting underserved communities," said Ngui Siew Ching, Marketing Manager of Kotex Malaysia.
As part of its continuous effort to eradicate period poverty, Kotex Malaysia also donated close to 4,000 packs or over 30,000 pieces of pads to Lotus's Sis Boleh Sis campaign to support girls from 19 Lotus's participated schools across Malaysia.