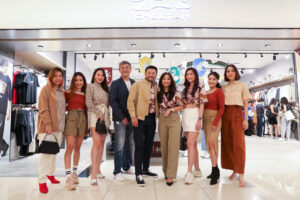 CHEETAH is proud to present its new Spring/Summer 2023 collection, which is inspired by the majestic grandeur of the safari. The collection, designed by famous Malaysian fashion designer and CHEETAH's Creative Director Dato' Jovian Mandagie, includes a wide selection of men's, ladies', and children's attire.
Commenting on the new collection, Dato' Jovian Mandagie said "The collection is a celebration of the timeless elegance and raw power of the African wilderness. The safari has always been a source of fascination and inspiration to me," said Mandagie. "With this collection, I wanted to capture the essence of the safari – its rugged landscape, its exotic wildlife, the raw beauty and the untamed spirit of adventure that it embodies." he added.
Featuring a blend of earthy tones, bold patterns and rugged textures, the Spring/Summer 2023 collection offers something for everyone. From casual daywear to fashionable pieces, each piece is designed to reflect the natural beauty and richness of the safari.
The new collection is set to be unveiled at a private viewing session with members of the media, key opinion leaders and celebrities at our flagship store at 1 Utama Shopping Centre. This exclusive preview is an opportunity for fashion insiders to get the first glimpse of the stunning new designs and appreciate the intricate craftsmanship that went into creating them.
The collection is particularly timely as it coincides with the upcoming Raya festivities, providing an opportunity for customers to add a touch of safari-inspired glamour to their celebration wardrobe. The collection includes dresses, shirts, pants, skirts, and more. All designed with the latest trends in mind.
The Spring/Summer 2023 collection is now available in the CHEETAH Flagship Store at 1 Utama Shopping Centre, major departmental stores and online at www.cheetah.com.my.