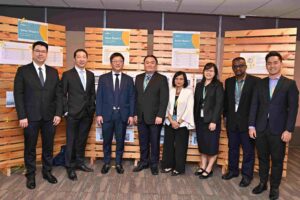 The Power Purchase Agreement (PPA) between Altervim Co. Ltd. and Lotuss Stores (Malaysia) Sdn Bhd (Lotus's Malaysia) is for 20 years, beginning on March 30, 2023, and lasting until the year 2042. With the signing of this agreement, the retailer may begin installing solar photovoltaic (PV) panels on the roofs of its 21 Lotus shops and Ambient Distribution Center in Bukit Beruntung.
"Once the installation is completed in September 2023, the solar PV panels will collectively generate 150,000,000 kilowatt-hours (kWh) of clean energy per year, which is equivalent to lighting up more than 3,500 houses annually. The clean energy generated will offset a total of 9,585 tons of CO2 into the atmosphere", said Lotus's Malaysia President, Mr. Kenneth Chuah.
Altervim will fully invest in the 22 solar PVs which includes the design, installation, operation and maintenance of the solar PV systems. Plus Xnergy Sdn Bhd has been appointed as the local Clean Energy Specialist for this project.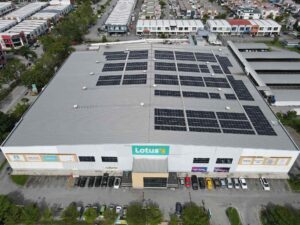 Besides the Ambient Distribution Center in Bukit Beruntung, the 21 stores which will be fitted with the solar PV panels through the Lotus's – Altervim PPA are:
| | | |
| --- | --- | --- |
| Taiping | Bahau | Kuala Selangor |
| Seri Iskandar | Kepong | Puncak Alam |
| Puchong | Selayang | Setia Alam |
| Ampang | Semenyih | Kota Bharu |
| Bandar Puteri Bangi | Bukit Beruntung | Parit Raja |
| Rawang | Desa Tebrau | Setia Tropika |
| Bukit Indah | Eco Tropics | Seri Alam |
Lotus's Malaysia's entered into its first PPA with NE Suria Satu Sdn Bhd (NESS), a joint-venture company of PETRONAS and NEFIN Group in 2020. It involved the installation of solar PV panels on 15 of its stores. The retailer then went to its second PPA with with NEFIN Group in 2022, to install solar PV panels on another 13 of its stores.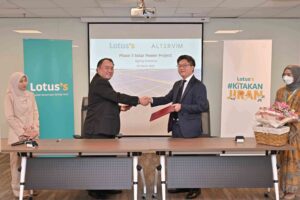 "Through the Lotus's-Altervim PPA, this makes Lotus's Malaysia the largest commercial solar PV installation in Malaysia to date," Kenneth further added.
Lotus's Malaysia currently operates 65 stores and two distribution centers in Peninsular Malaysia. With the first, second and the current PPA combined, the retailer will now have a total of 49 stores and 1 Distribution Center, making 75% of Lotus's facilities powered with solar by end 2023, reinforcing the company's commitment towards its carbon neutral goal by 2030.
Over the years, the retailer has invested in energy efficiency initiatives within its operations through the use of LED lightings and more energy efficient air conditioning and refrigeration in its stores and distribution centers.