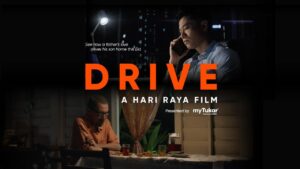 In honour of Eid al-Fitr, Malaysia's fastest-growing used vehicle ecosystem, myTukar, has launched their first-ever festive brand film, emphasising the value of love, understanding, and community.
Titled 'Drive', the film tells a story of a father and son who are apart as the holiday season approaches. Despite the son's busy work schedule, the father is determined to bring them closer, as he prepares for an Eid reunion under the pretext of fixing up their old car together. Will the son finally understand his father's heart and go home to what matters?
myTukar CEO Derrick Eng says, "As a Malaysian, I know how important Raya is for all of us. And as a Malaysian brand, we want to highlight the true significance of Raya. It is our hope that this short film will resonate with all busy, hardworking Malaysians, and remind us all to carve out time for our family members, not just during festive periods. During this time of the year, we are committed to safely bring countless families together as they balik kampung."    
The festive film will also be released in Singapore, Indonesia and Thailand – markets that myTukar's parent company, Carro, is present in.
Carro Creative Director Simond Chew says, "Kinship and love are important threads that bind us tightly and this homecoming story is one that is easily understood across the region. The journey to recognising the love that our family members have for us and vice versa takes more than just a drive home – it's about the time and care that we intentionally carve out for each other."
The short film can be viewed on myTukar and Carro's respective YouTube channels.
Have a menangful Raya with attractive myTukar offers
Customers can also look forward to a massive giveaway with prizes worth RM100,000, and discounts of up to RM27,000 off selected myTukar Certified cars from 1 March to 19 May 2023.
Prizes include 5 sets of all-expenses paid trip for two to Seoul, South Korea worth RM11,600 each, 11 brand new Philips televisions worth RM1,799, and 300 petrol cards worth RM100 each.
Other promotions include:
30% discount on whole-car spray paint services, complimentary headlamp coating with all rims respray worth RM800
50% discount on alignment and balancing services
For more information on the special Raya offerings by myTukar, please visit our microsite or find your nearest myTukar Retail Experience Centre today.