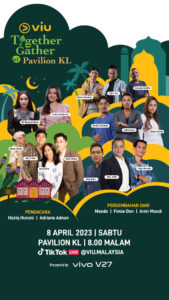 vivo, a renowned smartphone brand in Malaysia, will host a "VIU Together Gather" event at Pavilion Kuala Lumpur on Saturday, 8 April 2023, beginning at 8 p.m. The event will include a number of performances by well-known local superstars such as Masdo, Fimie Don, and Amir Masdi. Nabila Huda, Faizal Hussein, Alvin Chong, Tony Eusoff, and many others have appeared.
Throughout the "VIU Together Gather" event, vivo will provide guests the opportunity to have a hands-on experience on its latest colour-changing smartphone with Aura Portrait – the vivo V27.
vivo is committed to developing cutting-edge technology that enhances its users' lives. This is in line with VIU's dedication to offering the highest quality entertainment experience for all users, and the collaboration brings together two leading industry leaders to provide users with the best and engaging content across Asia.
So come and join the fun at the "VIU Together Gather" event this Saturday! Bring your family and friends together for a joyful Ramadan experience.
For more information, stay tuned to vivo Malaysia's official Facebook Page.