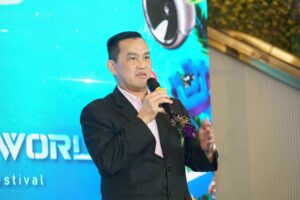 Individuals from all walks of life can look forward to one of this year's most highly anticipated events, titled 'Out of The World (OOTW)' – Malaysia's first and largest water & music festival, which will take place this 26 May 2023 (Friday) to 28 May 2023 (Sunday) at the Sepang International Circuit.
Organized by Genesis Entertainment Sdn. Bhd (Genesis Entertainment) –  a global strategy, experience design, and production agency, the event falls under its initiative to bring fun to the world and catalyze the local tourism industry with affordable and attractive theme parks that will draw visitors from across the globe.
Spanning over 2 acres of land (87,120 sqft.), OOTW will serenade festival-goers with performances from international and local artists such as:
| | | |
| --- | --- | --- |
| DOLLA | INSOMNIACKS | SHERRY ALYSSA |
| VGENE | MARDIANA | CLAUDIA TAN |
| RESORT | CHUKIESS & WHACKBOII | NAHSYK |
| MIDNIGHT FUSIC | LOST SPACES | |
| TY:DEL | JOVYNN | |
| RIESA ANNE | REXX FONG | |
| HAN XIIAO AII韩晓嗳 | JE | |
| JOVYNN | NYK | |
In addition to this, OOTW will feature a myriad of activities such as a three-story inflatable water theme park, a never-before-seen in Malaysia AI-projection mapping of water slides and pools, art installations, a food bazaar with various cuisines, an obstacle course, and much more, to bring visitors an all-rounded, immersive, fun, and cultural experience.
Mr. Iskandar Mirza bin Mohd Yusof, Senior Director (Domestic & Events) of Tourism Malaysia said, "It is exciting to see our Malaysian corporations take the initiative to promote our rich mix of tourism and culture by leveraging entertainment to showcase it. Initiatives like these are key to generating an international demand for such events and driving tourism expenditures. I would like to congratulate everyone involved in the execution of the Out of The World festival, which provides a platform for Malaysians to learn and grow in this regard. I believe Malaysia has great potential in spearheading such hi-caliber events and I look forward to seeing more of it in 2023."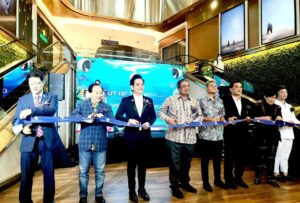 With few to no events like this in Malaysia, Genesis Entertainment aims to set a benchmark in Southeast Asia by producing a unique event that will showcase the country's ever-diverse tourism, arts, culture, and entertainment. Additionally, over 30,000 attendees are expected to be welcomed at the festival, conforming to its goal of contributing to Malaysia's national Gross Domestic Product (GDP) by increasing tourism expenditures with the festival functioning as a tourist attraction for foreigners and locals alike as they touch down in Malaysia.
Mr. Lens Chan, Chief Executive Officer of Genesis Entertainment Sdn. Bhd. said, "It is a great honor to play a part in this initiative, as we believe that it is our responsibility as a homegrown brand ourselves to do all within our grasp to upskill and improve the local entertainment and tourism industry to the best of our capabilities. We at Genesis Entertainment look forward to exceeding expectations at the Out of The World festival this year, and every year moving forward – to showcase Malaysia as a nation that can develop quality projects and innovations worldwide."
Furthermore, the initiative is also poised to expand the employment market and create more jobs for Malaysians in the entertainment and tourism industry. Genesis Entertainment is ecstatic to welcome visitors from all over the world to experience what Malaysia has to offer. Tickets to the Out of The World water and music festival can be purchased here, beginning today, with multiple ticketing packages.
*Ticket price includes limited edition Costume & Water gun (for first 1,000 early birds only).
*Ticket price is subject to change at any time.
For more information, kindly visit: https://www.ootw.asia/