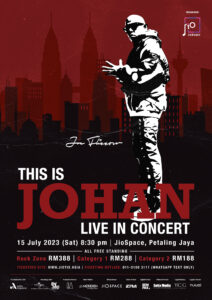 There is no better news than when the President of Hip Hop Malaysia, Joe Flizzow, announces his first great endeavour – a solo performance! Joe Flizzow has a strong solo label, with singles like "Apa Khabar" with SonaOne being broadcast on the radio and garnering significant accolades like the 29th Anugerah Juara Lagu.
Joe Flizzow remains a legend in the music industry, especially among the younger generation who choose Hip Hop and Rap as their musical genre.
After years of perseverance, numerous achievements as well as accolading both locally and internationally, President Joe Flizzow has decided to party with his fans. The Joe Flizzow "This Is Johan Live In Concert" will take place on 15 July 2023 at JioSpace.
The concert is brought to you by JioBuddy in collaboration with Altus ProHouse and production partner – Level Up, moreover the recording label – Universal Music Malaysia and DefJam Recordings South East Asia, with the official support radio partner – Era FM and digital partner – Astro Gempak
"With the resurgence of the music industry, including fellow musicians being able to resume open performances or concerts after the pandemic, our team at JioBuddy feels that this is the perfect moment to hold Joe Flizzow "This Is Johan Live In Concert".
We believe that this concert will be his greatest solo concert ever held with over 15 years of hard work and determination," said Sean Ng, CEO of JioBuddy.
The concert will see Joe collaborating with fellow musicians in the industry to deliver an unforgettable performance of his repertoire hits like "Sampai Jadi," "CIAO," "Satu Malam Di Temasek," "Sang Saka Biru," and "Kongsi."
"I don't want this show to be remembered only as a performance or concert. This is where music enthusiasts appreciate all the hard work throughout my battling career.
Come to this concert and feel our unwavering spirit. I'm waiting for you here, there will be many surprises and adrenaline pumping performances because this is my first solo concert in more than 10 years," said Joe Flizzow.
Throughout his solo career, Joe has produced two full albums, The President in 2008 and Havoc in 2013.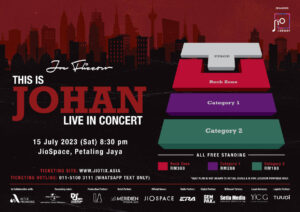 Don't miss Joe Flizzow "This Is Johan Live In Concert" which will be held on 15 July 2023, 8:30pm at JioSpace in Petaling Jaya.
Tickets will go on sale on 12 May 2023, and can be purchased through www.jiotix.asia.
INFORMATION
Joe Flizzow This Is Johan Live In Concert
Date: 15 July 2023
Time: 8.30 PM
Venue: JioSpace Petaling Jaya
Ticket sales at www.jiotix.asia from 12 May 2023 onwards.