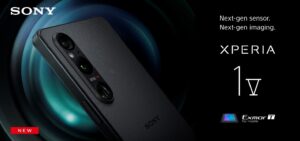 Sony unveils the Xperia 1V, the first flagship smartphone in the world featuring a newly created stacked CMOS picture sensor with 2-layer Transistor Pixel. The Xperia 1V is loaded with Sony's cutting-edge technology, addressing the high-level demands of creators while also helping aspiring creators who wish to film or transmit their material with pride.
"We continue to prioritise the needs of our customers and the new Xperia 1V allows for the next level of content creation, viewing experience, gaming performance, battery life and audio capabilities," says Yang Cheng, Vice President, Imaging Solutions, Sony Electronics Inc. "The opportunities and needs for smartphones are increasing and with the Xperia 1V the possibilities for creation by photo and video are truly endless."
Elevating Content Capture
The Xperia 1V is raising the bar with its' newly developed image sensor which depicts rich colours and textures of people, landscapes, and scenes in even dark locations. Due to the combination of the low-light performance, which is approximately double compared to the previous model[i] and the high-speed multi frame overlay procession technology of the Xperia 1V, it is possible to shoot a noise resistant photo with a wider dynamic range that is equivalent to a full-frame camera[ii].  The 24 mm lens on the back of the Xperia 1V equipped with a 2-layer Transistor Pixel stacked CMOS image sensor "Exmor T for mobile" which is about 1.7 times larger than previous image sensor.  In addition, the 85-125 mm (F2.3-F2.8) optical zoom lens enables bright portraits with little distortion.
S-Cinetone, known by cinematographers[i], has been adjusted and installed for mobile. Since the texture of the human skin can be beautifully expressed when shooting, it is possible to record an impressive cinematic image as it is, without colour grading. In addition, the new sensor has approximately three times of saturation signal level2 compared to the conventional sensor, and unique image quality processing suppresses noise that tends to occur in dark scenes, resulting in beautiful images with soft colours.
The Xperia 1V has a multitude of functions including colour presets such as Creative Look, also found in Alpha series cameras, and high-performance real time AF (auto focus).  Various colour settings are preset, such as colourful flowers and clear blue sky, or creating a soft, transparent finish. Xperia's high-performance Real-time Eye AF[ii] and Real-time tracking4 allows shooting with the focus on the eyes of a person or a specified subject. With AI depth that analyses distance information, even distant subjects can be clearly focused. Additionally, high-speed continuous shooting of up to 30 frames per second with AF/AE[iii] tracking is newly available, so no moment will be missed.
Improved Vlog Experience
Xperia 1V fits all creators' needs with the Product Showcase Setting, which is a popular function in Sony's VLOGCAM series and shifts the focus on the camera to the product, instead of reviewer's face, when shooting.  Additionally, a new voice priority mic is placed near the rear camera.  Even when in a busy outdoor location, the creator's voice is clearly recorded, so it makes an easy transition from shooting to distributing the video. When doing a YouTube™ live stream via the video recording function "Videography Pro", chats from viewers can be viewed in the comment section simultaneously, allowing for immediate interaction[i] with viewers in real time. The user interface also supports vertical shooting, so you can shoot content in any orientation, either vertically or horizontally[ii].
Immersive Experience
Packed into the flagship Xperia smartphone is a 6.5-inch 4K OLED display with a refresh rate of 120Hz[iii] and less blur. The powerful and low-noise speaker amplifier improves the spread and depth of the sound, and the extension of the low and high frequencies, creating a more dynamic and clear sound. Xperia 1V offers an authentic viewing experience of movies and music without a need for an additional speaker.
On the backside, it has a functional tactile design that uses a uniquely developed texture glass. Combined with the fine slits on the side, it provides a stable grip and prevents from slipping when you hold the smartphone during shooting or viewing.
Best in Class Gaming Performance
The game assist function "Game Enhancer" provides visual and auditory support for game players.  In addition to simply playing, players can also livestream their playing scene on YouTube. Qualcomm's Snapdragon® 8 Gen2 Mobile Platform and Elite Gaming[iv] optimises the experience of shooting, viewing and playing games with superior level.
Long Lasting Battery Power and Powerful CPU
Despite using 4K display, approximately 20 hours[i] of continuous video playback is available with a powerful 5,000mAh battery.  It supports wireless charging, 30 minutes quick charge up to 50%[ii], and furthermore, Xperia's unique charging optimisation technology supports users with a battery that maintains 80% or more of its maximum capacity[iii] even after 3 years.

By improving power consumption and heat dissipation, Xperia 1V achieves both high performance and durability, and possible to shoot for a long time while suppressing heat generation. Equipped with the Snapdragon® 8 Gen2 Mobile Platform, the power efficiency of the CPU has been improved by approximately 40%[iv] compared to the previous model. The power consumption during camera operation has been improved by approximately 20%, and the volume of the heat diffusion sheet has been increased by approximately 60% for the heat dissipation performance of the main unit. 
Accessibility and Sustainability
With continued efforts to provide more accessibility, Xperia 1V includes a function in the Photo Pro feature that uses sounds to inform users the horizontal and vertical measurement of the screen. The Sony Group has set an environmental plan "Road to Zero" aiming for zero environmental load by 2050. In order to achieve this, we are taking action while setting medium-term environmental targets in stages. As part of these mid-term environmental goals, we aim to completely eliminate plastic packaging materials for newly designed small products by 2025.  Xperia 1V 's plastic-free package[i] is comprised of Sony's unique Original Blended Material, which is made from bamboo, sugar cane fibers, and recycled paper collected from the market.  We are also working to reduce the amount of virgin plastic used inside the main unit. Some elements, both internal and external, of the main unit use SORPLAS™, a flame-retardant recycled plastic developed by Sony that uses up to 99% recycled materials. For more details, please visit: www.sony.net/xperia-eco
Style Cover with Stand for Xperia 1V (XQZ-CBDQ)
The Xperia 1V exclusive cover has a grip on the bottom of the main unit to enhance the shooting experience. In addition to the conventional horizontal stand, it supports vertical stand, making it easy to use not only for watching videos but also for live distribution and video chat. The back of the cover incorporates the textured design applied to the back of the "Xperia 1V" body, so that the original design of the device is not compromised even when the cover is attached. Three colours[i] are available to match the body.
Pricing and Availability
The Xperia 1V will be available in Malaysia from 3 July 2023 with the SRP of RM6,399.
For more information about the Xperia 1V, please visit:
Xperia 1 V Product Announcement video: https://youtu.be/UOo9szWkl-o
Xperia 1 V Introduction video: https://www.youtube.com/watch?v=BDjAz7E7SFo
Xperia 1 V Product Site: https://www.sony.net/xperia-1m5