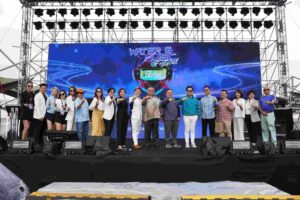 The ceremonial opening ceremony of the Out of The World (OOTW) event, which has established the record for being 'MALAYSIA'S LARGEST WATER & MUSIC event,' was officiated by YB Dato Sri' Tiong King Sing, Minister of Tourism, Arts & Culture (MOTAC). The one-of-a-kind event demonstrates the organizer's dedication to enhancing the country's tourist earnings by developing a one-of-a-kind attraction that will attract people from across the world.
The festival spanned across two acres of land (54,936 square meters) at the Sepang International Circuit and accommodated over 10,000 visitors from all walks of life – allowing them to indulge in the country's unique cultural and entertainment tourism experience over the weekend. As a result, OOTW has set a Malaysia Book of Records title for being 'MALAYSIA'S LARGEST WATER & MUSIC FESTIVAL.'
OOTW presented the public with a myriad of activities such as a never-before-seen three-story inflatable water park and obstacle course, high-technology AI-projection mappings of pools, various instragammable art installations as well as a food bazaar equipped with various cuisines – accommodating an all-rounded, immersive, and joyful experience for everyone.
Mr. Lens Chan, Chief Executive Officer of Genesis Entertainment & Organizer of OOTW said, "We have seen other countries develop and execute these types of projects, and as a result, they have become prominent household festivals that we see around the world today. This type of success was one of the many inspirations that drove us to create and execute Out of The World. Executing this event marks a stepping stone in our journey of producing a source of entertainment that can be hosted annually and eventually gain popularity from around the world – inviting everyone from all walks of life to come and visit Malaysia and experience the great tourism and culture here."
Furthermore, with the success of OOTW, Genesis Entertainment will be continuing on its mission to have OOTW become an annual event that will meet the demands of those looking for high-class events in the country.
Throughout the weekend, festival-goers were entertained by a diverse festival line up which featured local and international artists including YVESV;  INQUISITIVE; DJ WILL SPARKS; DOLLA; INSOMNIACKS; CHUKIESS & WHACKBOI;  JOVYNN; REXX; and many more.
For more information, kindly visit: https://www.ootw.asia/