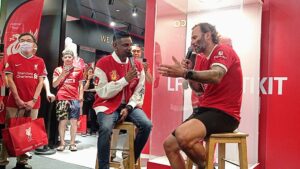 In honour of the children, women, and men who were wrongfully killed as a result of the Hillsborough catastrophe, the 97-emblem, which is encircled by the eternal flames, is proudly displayed at the nape of the neck on the back of the jersey. Starting on May 19, you can purchase items from this most recent collection in the official Liverpool FC store at Sunaway Pyramid.
An iconic kit reimagined, it's a classic design in bright Liverpool red with white contrast collar and cuffs inspired by Shankly's 1973-74 squad of FA Cup winners.
The current men's squad will debut the new kit in the final home match of the season against Aston Villa on May 20-Anfield's final game.
Both stadium and match jerseys have Nike's Dri-FIT technology to help stay cool during intense games or training sessions.
The club's name and number style for the back of the shirt takes inspiration from the city, with a contemporary take on Liverpool's historic street signs. The product is printed with water-based inks as a more sustainable option and will be worn for cup competitions and friendlies.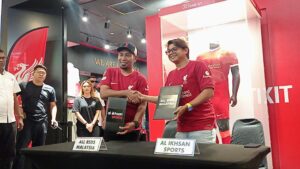 According to Vach Pillutla, the Chief Executive Officer of Al-Ikhsan Sports', "Liverpool FC despite its ups and downs in this season, still has a phenomenal following with the fans of the beautiful sport. Over the years through Al-Ikhsan Sports, www.al-ikhsan.com, Football Republic and LFC Official store at Sunway Pyramid, we have tried to bring the Anfield experience closer to the fans who may not be able to necessarily go and enjoy the experience first-hand. LFC merchandise today is widely available across 105 points of sales. This has been made possible, thanks to the phenomenal distribution and marketing machinery of Al-Ikhsan Sports that e have built over the past 30 years."
The home kit will be available in men's. women's and junior sizes, and in a match and stadium version. This will also include lifestyle collection, home anthem jacket, Polo T, track bottom, round neck shirt, cap and shorts which will be coming in later in the LFC official store. The price will range from RM89 for the junior round neck and up to RM515 for the authentic home kit jersey.
The entire collection will also be available at selected Al-Ikhsan Sports across Malaysia and via the official e-commerse platform, www.al-ikhsan.com for an easy shopping experience.