The iconic pop culture symbol Barbie and prominent international toy business Mattel, Inc. have teamed together for the first time ever in an exciting new collaboration, which is being announced by ALDO, a leading worldwide fashion footwear and accessories brand. The June 29th release of the Barbie x ALDO limited-edition capsule collection, which brings together the fun-loving, open-minded, and fashion-forward ethos of both companies, is a celebration of nostalgia, unrestricted self-expression, and inspiring future generations to dream big.
The 19-piece limited-edition assortment maximizes the Barbie fun, fearless and iconic style with a range  of ladies' footwear, handbags and accessories built for playing in real life. The nostalgic collection embraces vibrant monochromatic hues of pink, synonymous with the Barbie brand, bringing its own  novel flare to the Barbiecore™ aesthetic. The elevated and playful assortment includes Y2K elements  infused with ALDO's classic style and signature bold Barbie aesthetic, creating a unique look that reflects  the best of both beloved brands. The one-of-a-kind pieces are embellished with eye-catching  rhinestones, charms and playful details such as bejeweled B monogramming and dynamic Barbie logos.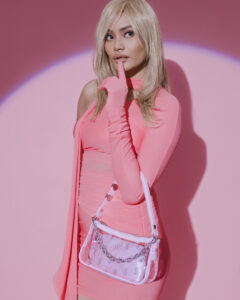 "We couldn't have picked a better partner than Barbie – a legacy brand that transcends generations, living in the same playful and fashionable space as ALDO," says Daianara Grullon Amalfitano, Chief ALDO  Brand and Product Officer. "Our goal with this collaboration was to ignite fun and nostalgia for our  customers, by inviting them to reconnect with the beloved world of Barbie where self-love, empowerment and dreaming big rule. With the rise of the viral Barbiecore trend this past year, we felt  this was the perfect moment to bring the Barbie x ALDO Collection to life."
The Barbie x ALDO Collection will be available for purchase on June 29th, in-store at ALDO Pavilion  Kuala Lumpur.