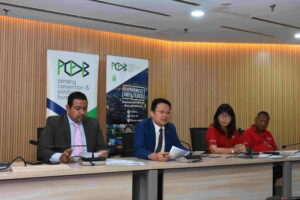 Penang is proud to announce that it has been chosen as the host city for the highly anticipated World Conference on Marine Biodiversity (WCMB) 2023. This prestigious event, organised by Universiti Sains Malaysia is scheduled to take place from 2nd to July 5th 2023 bringing together prominent scientists, researchers, policymakers, and industry experts from around the world, united by their dedication to marine biodiversity.
The WCMB 2023 represents a unique opportunity for Penang to showcase its unwavering commitment to marine conservation, research, and sustainable practices. This global gathering of esteemed professionals will contribute to advancing knowledge, understanding, and preservation of our oceans, while driving meaningful change in marine biodiversity conservation.
WCMB 2023 will feature a diverse array of sessions, special symposiums, and panel discussions, offering attendees the opportunity to delve into emerging technologies, cutting-edge research, and successful case studies in marine conservation and resource management.
"We are honoured to have been selected as the host city for the World Conference on Marine Biodiversity 2023," expressed Ashwin Gunasekeran, CEO of Penang Convention & Exhibition Bureau (PCEB). He added that "the insights gained from this global gathering will inspire further research, innovation, and sustainable practices, positioning Penang as a leading hub for marine biodiversity conservation and research."
The conference is expected to have a substantial economic impact, with an estimated economic impact (EEI) of RM 3.2 million and a total of 400 delegates attending, including 70% international participants. Over the years, science conferences have significantly contributed to Penang's economy, generating close to RM 40 million from 8,056 delegates, said Ashwin.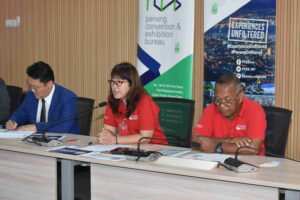 The long-term effects of the WCMB 2023 will reverberate throughout Penang's marine and environmental sectors. The knowledge shared, research presented, and collaborations formed during the conference will foster further innovation, shaping the future of marine biodiversity conservation. Penang will emerge as a recognised centre of excellence in the field, attracting investments, partnerships, and scientific talent.
"It will be another milestone on propelling the state's MICE industry on the global stage as Penang has been chosen by the International Association for Biological Oceanography (IABO) to be the first-ever host city in Malaysia and ASEAN for this tri-annual global conference. The next General Assembly of IABO will also be held during the WCMB 2023 in Penang." said YB Yeoh Soon Hin, the State Exco for Tourism & Creative Economy.
"This objective of the world conference also aligns with Penang's efforts to promote sustainable tourism practices. By focusing on the importance of marine conservation, we raise awareness about the fragility of our oceans and inspire visitors to become responsible in stewarding our natural resources." highlighted YB Yeoh Soon Hin.
The 6th World Conference on Marine Biodiversity promises to be a transformative event, generating profound insights and inspiring change in marine biodiversity conservation. Penang extends its gratitude to Universiti Sains Malaysia for their exceptional efforts in organising this conference, and to all the distinguished scientists and participants who will contribute to its success.