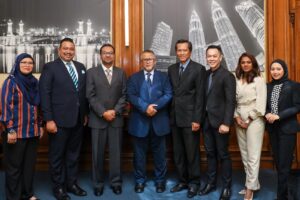 The Meetings Show 2023, which was recently hosted at ExCEL London, United Kingdom, was the first event in which Malaysia Convention & Exhibition Bureau (MyCEB) collaborated with important industry players.
Commenting on the participation, Acting Chief Executive Officer of MyCEB, Mr. Zain Azrai Rashid said that Team Malaysia is appreciative of the overwhelming response, a reflection of a successful show. "Over the two-day event, the Malaysian delegation achieved impressive results through a promising figure of RM570 million in estimated economic impact into the country from the meeting appointments at the stand. This cumulative figure is accomplishable based on business opportunities from five exhibitors which is part of Team Malaysia including MyCEB, Business Events Sarawak, Borneo Convention & Exhibition Centre, Kuala Lumpur Convention Center and Malaysia International Trade and Exhibition Centre."
Through Malaysia's participation, the bureau believes that quality leads gained from The Meetings Show 2023 has set the momentum for a vibrant business events scene in the near future for Malaysia. It is with full confidence that the country will soon open the floodgates of delegates from various industries which will mutually benefit the clients, the business events' value chain as well as the destination.
In the pipeline, the country will be focusing on welcoming incentive travellers again post pandemic. As of today, MyCEB has 23 confirmed incentive travel under its belt, that will generate an estimated economic impact of RM124.9 million. Since MyCEB's inception in 2011 up to 2019, the national bureau has welcomed around 411,150 participants under incentive travel, generated around RM6.2 billion in estimated economic impact to the country's economy.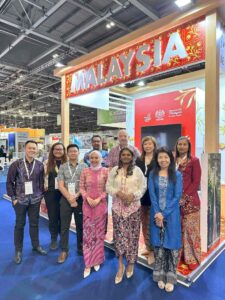 As Malaysia prepares an imminent succession in the business events industry, the national bureau alongside the state bureaus and industry stakeholders will continue to work hand in hand and accord relationships with the Ministry of Tourism, Arts and Culture (MOTAC), Ministry of Finance, Ministry of Economy, Ministry of Foreign Affairs, Ministry of Investment, Trade and Industry and its governmental agencies.
Malaysia is ever ready to explore the European market and expand its presence amongst business delegates. According to Mr. Zain, the continent is attractive to Malaysia as it makes 50% market share of the global business events market and is expected to be steadfast at this position until 2030. The continent is also the largest market for international association conference participants and continues to experience market growth.
"An interesting observation is that business events is not bound to the regular tourism seasons in Europe, making business events more welcomed during low tourism season. With this, Malaysia will be able to take the opportunity all-year round to showcase our destination and industry's strength in delivering a memorable experience, as seamlessly possible," he continued.
For more information on business events in Malaysia, interested parties can contact MyCEB at https://www.myceb.com.my/.