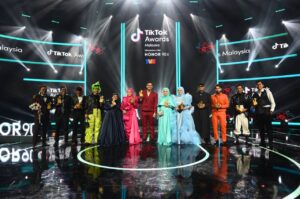 The first-ever TikTok Awards Malaysia 2023, a partnership between TV3 and TikTok, was a big success, capturing Malaysians' attention and honoring outstanding creators! I'd like to congratulate the 13 category winners who were revealed live on TV3 and the TikTok Malaysia account from the Malaysia International Trade and Exhibition Centre (MITEC) in Kuala Lumpur on August 27, 2023.
The awards show achieved an incredible reach, generating 5.31 billion digital impressions for keywords related to the event as of August 28, 2023. The live stream on TV3's official TikTok account was watched by 948,000 viewers. The awards show also garnered more than 4.1 million views on TV3 and 1.1 million views on the live stream on TikTok. (Source: Nielsen, Meltwater)
The night ended with the announcement of the Creator of the Year award, which went to the popular creator Khairul Aming. The influencer, who received a total of 1.3 million votes, also gave an inspiring speech to young people who want to pursue a career in content creation. Khairul Aming took home a trophy and an Honor smartphone as a prize. All of the winners in the other 12 categories also received trophies.
Here is the full list of winners of the TikTok Awards Malaysia 2023:
People's Choice Awards:
Creator of the Year: Khairul Aming
Rising Star of the Year: Ikhmal Nour
Popular Creator of the Year: Ryan Bakery
Celebrity of the Year: Aeril Zafrel
Popular Animation Account of the Year: Upin & Ipin
Live Creator of the Year: Tigerlabu
TikTok Shop Creator of the Year: Anas Zahrin
Judge's Pick Awards:
Best of Beauty and Fashion: Shahira Azlan
Best of Education: Sir Asai
Best of Entertainment: Eiqa Maleq
Best Foodie: Syifa Jamill
Best of Gaming: Sultan Riq
Best of Sports: Khalish
The TikTok Awards Malaysia were organized by TV3 and TikTok, with Honor 90 5G as the main sponsor, Foodpanda as the co-sponsor, F&N Dairies as the associate sponsor, and U Mobile as the supporting sponsor. Hot FM and FLY FM were the official radio partners, while SAYS, Oh Bulan, and Viral Cham were the official digital partners.
For more information about TV3 programs, visit www.xtra.com.my and follow the official Facebook, Instagram, and Twitter pages at @TV3Malaysia.