Through its senior-only smartphone photography course, which is based on the company's philosophy of "Technology for Mankind, Kindness for the World," OPPO makes sure that no one is left behind when it comes to digital empowerment and technology know-how.
Held in partnership with Universiti Sains Malaysia's Bengkel Teknologi Senior, OPPO provided a group of 19 senior citizens with the opportunity to upskill and pursue creativity through the smartphone photography masterclass, which included modules on shooting true-to-life portraits as well as bokeh photographs using the OPPO Reno10 Pro+ smartphone.
"We firmly believe that everyone has boundless potential and creativity when given the right tools and opportunities, and we are hoping to unearth this skillset amongst senior citizens, who are often left behind in an increasingly digital world. Through the OPPO Reno10 Pro+, the senior citizen generation can develop their interest in photography, which will allow them to snap precious moments with their family and friends," said OPPO's Marketing Manager, Monica Qin.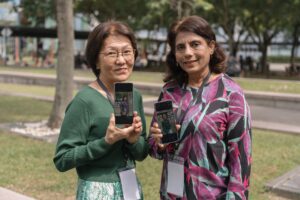 The OPPO Reno10 Pro+ takes ultra-clear pictures in any and every situation, all thanks to the help of its industry-leading flagship camera system, enabling senior citizens to capture natural and intimate portraits with their family and friends without having to compromise on quality.
Capturing the essence of portrait photography, the senior citizens were able to snap precious moments using the OPPO Reno10 Pro+'s 64MP telephoto portrait and Pro Portrait Mode, which greatly enhanced the portrait-taking experience.
For Wan Farhah, age 61, the workshop masterclass is one way she is able to explore boundless creativity and pursue a hobby or interest that is near and dear to her.
"The OPPO Golden Photography workshop gave us a good understanding of how to use the telephoto portrait camera on our smartphones. I had so much fun, especially during the walkabout tour, that I wish the session was a little longer. I will be on the lookout for the next workshop, and this time, hopefully we will also be able to learn about landscape photography and other aspects of photography since my husband and I like to travel and take pictures of the scenery and the diverse cultures, said Wan Farhah.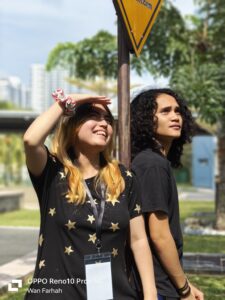 Through its OPPO Golden Photography workshop, OPPO solidifies its role as a technological frontrunner and continuously reinforces its dedication to creating experiences that bridge generations through innovation. The workshop underscores OPPO's unwavering commitment to ensuring that every individual, regardless of age, is inspired to harness the power of technology and innovation to unlock their fullest potential, one portrait photo at a time.
"The thing about senior citizens is that as we grow older, we feel ourselves becoming increasingly irrelevant, so when companies like OPPO conduct programs like these, it draws us back in and makes us feel worthy and energized. We believe we are still capable of learning new things, and this is a eureka moment for us. I'm impressed with the level of openness to share and the hands-on sessions OPPO has put together for us. Engaging us senior citizens is a good initiative from OPPO, and I hope there is continuity to such programs, as it helps keep us seniors updated in the increasingly digitalized world," said Raveendran Subramaniam, age 72.
More ways for senior citizen customers to enjoy OPPO-exclusive rewards
In line with its ambition to digitally equip senior citizens, OPPO offered participants of the workshop a smartphone voucher worth RM66 in conjunction with the 66th National Day and Malaysia Day celebrations. The complimentary voucher provides them with more opportunities to experience OPPO's range of smartphone products.
In addition, OPPO is making it easier for senior citizens to enjoy exclusive rewards to enhance their digital lifestyle. From September 14 to September 16, 2023, all customers, including OPPO's senior citizen customers, can look forward to after-sales deals, including:
RM20 Touch & Go Recharge Codes
Upon completion of mobile maintenance, OPPO users are invited to share their service experience, snap a photo with the national flag, and share the image on social media, tagging OPPO Care's Facebook page. Customers need only show proof of participation to OPPO's customer service center staff to earn the RM20 Touch & Go Recharge Codes.
OPPO Care PWP Discounts
During the campaign period, OPPO customers can enjoy OPPO Care PWP extra discounts (30% off) to purchase warranties for their new devices and accessories.
Accessory PWP
Seniors need not worry about having a smartphone that runs low on battery again, as both OPPO users and non-users who send in their phones for repair will be entitled to a discounted PWP price on Fast Charge and Non-Fast Charge Data Cables (RM29) and 65W as well as 80W Fast Chargers (RM99).
Free mobile phone disinfection and cleaning
In order to ensure that senior citizens enjoy a pleasant experience using their smartphones, OPPO has introduced a complimentary mobile phone disinfection and cleaning service for its customers. Users can walk into OPPO stores to consult the customer service center staff and request assistance in disinfecting and cleaning products during the campaign period.
Free original phone case
Seniors can enjoy an additional level of security for their smartphones and show off their personalities with a complimentary original phone case, which can be obtained at OPPO's customer service centers.
Senior citizens who want to learn more about how to navigate some questions they may have about their smartphones are encouraged to join the O-Class, which is organized by OPPO. This dedicated space offers assistance for third-party software issues, daily maintenance, and care tailored specifically for seniors.
The session will be held on September 19 from 11 a.m. to 12 p.m. at My OPPO Space, IOI City Mall. The session is open to all senior citizens, and limited slots are available. Senior citizens who are interested in joining can scan the QR code below and register their interest now!
For more information about OPPO, kindly visit https://www.oppo.com/my/.