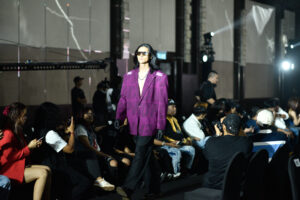 In conjunction with Kuala Lumpur Fashion Week 2023 (KLFW23), SUPERSUNDAY presented a strong 27-look collection aptly titled The Runway on August 27, 2023 (Sunday), at the InterContinental Hotel Grand Ballroom in Kuala Lumpur. SUPERSUNDAY is one of Malaysia's leading streetwear brands. Zulkifli Salleh, alias Bob, the company's founder and creative director, delegated entire creative responsibility for the collection's conception and production to Raffiq Corbin, the brand's co-creative director, this year.
The 28-year-old KLite hailing from Taman Melati, KL, has been working with SUPERSUNDAY since March 2020. A true streetwear enthusiast, Raffiq is also an accomplished rapper and dancer who is very much plugged in with fashion's global changes. The Runway as a collection is a true testament to his love for the culture, the street, and its community, based on his background of having lived in Kuala Lumpur all his life. "I feel that fashion that does not hit the street rarely has emotion. Clothes are meant to connect and communicate. It feels wild and truly engaging for us every time we see someone rocking their pieces from any of the SUPERSUNDAY collections walking down the street doing their everyday business. It's the pinnacle of when ideas meet their intended audience, especially when they are done right", says Raffiq.
The Runway took Three (3) months to be completed. True to form, the collection showcased its collaboration with Two (2) well-known brands namely
e-sports platform MP/Mobile Legends and homegrown menswear label Meg KL. Though Raffiq was put in the driver's seat, Bob played mentor and guided Raffiq through the process to ensure that the collection was completed in time for KLFW.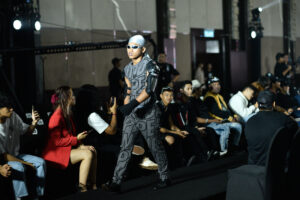 According to Bob, "I am very pleased to welcome and congratulate Raffiq as the Co-Creative Director of SUPERSUNDAY's collections. As a long-time fan of the brand, he encapsulates the spirit of SUPERSUNDAY to its core, and as an employee, he is the perfect spokesperson. Though young, he has street smarts and first-hand access to the streetwear culture and community, which makes him the best option for the new role. As witnessed by many today, I trust that I have made the right choice". 
This partnership, encompassing all creative facets of the SUPERSUNDAY label, opens a new dialogue between both parties of different generations. "Locally and regionally, SUPERSUNDAY has gained a reputable level of brand equity, and it is my task to take this to the future. Creatively, I am experimenting with new design elements, challenging the norms of streetwear. There are looks that are more fitted to the body and could take you from a casual day to a more formal evening function, providing our customers with new color options and product innovation, like the introduction of armor commonly used in martial arts and self-defense sports as accessories.
"In terms of business strategy, I would like to announce that this collection is available to be purchased immediately after the show—literally taking The Runway to the streets. Adding to this, we are currently amplifying our brand reach through various digital platforms, so no one could say that they have never heard of SUPERSUNDAY because we are here to stay and represent", quips Raffiq.
Follow SUPERSUNDAY via these social media platforms to receive updated and current news on the brand:
Facebook: SUPER SUNDAY STORE
Instagram: @supersundaystore.os
Twitter: SUPER SUNDAY STORE
Tik Tok: @supersundaystore.os
YouTube: Super Sunday