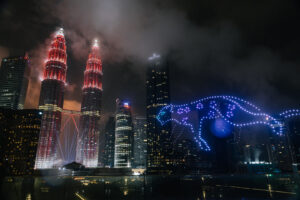 At the fourteenth annual edition of the Agency of the Year Awards, fondly known as the Markies Awards, 33.3 (or 'the Agency') was named the GOLD winner in two outstanding categories: Most Effective Use (Events) and Most Effective Use (Experiential). The awards were given in recognition of the agency's world-class execution of the Cartier drone light show in December 2022.
Formed in 2019 by co-founders Edwin Raj, Lau Hoe Yin (aka Blink), and Zulamran Hilmi with a conjoined mission to push the confines of communication and create impactful forms of storytelling, 33.3 is renowned within the Asian creative industry for producing cutting-edge music videos, especially for Malaysia's very own global pop R&B export, Yuna, and the President of Malaysian Hip Hop, Joe Flizzow. "This win hits differently because it is a solid indicator that we are more than what the industry, especially our prospects and stakeholders, perceive us to be. In an industry that relies heavily on creativity and innovation, we take pride in delivering exceptional levels of undertaking with every brief, be it music videos or a straight-forward activation request to elevate brand experience," explains Edwin Raj, 33.3's co-founder, who started his career as a van driver for local productions and worked his way up to become a much sought-after TV producer known for his progressive ideas.
The Cartier drone light show was the highlight of the luxury brand's 'Into the Wild' global campaign, designed especially for Malaysia. It was the first project of such scale to
be held at the iconic KLCC Twin Towers post-pandemic, and 33.3 is the only Malaysian company to have been given the approval to execute a drone light show at the park. For this project, 33.3 partnered with an internationally acclaimed drone solutions company, SKYMAGIC, based in the UK.
Zulamran, a design, culture, and art enthusiast who's also a co-founder of this unique homegrown agency, says, "Working closely with such a prestigious luxury brand as Cartier and the international agency Auditore was a fulfilling experience, with key learnings of process, workflow, and protocols to be fulfilled with no room for error".
"The process and planning alone took 90 days of detailing—from design, animation, synchronization, application of permits, and relevant approvals, including strategy concerning public safety—and were precisely presented and revised accordingly as per the client's requirements. This is also the first time KLCC has allowed for such a feat, as the location has been previously designated as a no-fly zone. Though challenged by the storm, we are grateful for the assistance from the Meteorological Department of Malaysia, which skillfully calculated a window of opportunity to fulfill our mission. Ultimately, with the guidance from the Civil Aviation Authority of Malaysia and the Royal Police Force (PDRM), we managed to execute the production safely, flying 300 drones to the beautiful KL skyline to form iconic shapes and designs that represent Cartier's Into the Wild campaign. Our gratitude also goes out to Auditoire as the agency that gave us the platform, not forgetting the KLCC Management for their continuous support throughout the project ", he added.
With sustainability being one of the agency's pillars in its creative practice and approach, the drone light show strictly followed current regulations, adhering to their commitment to environmental responsibility. Zul also mentioned that the best part was hearing and watching the crowd's reaction every time the drones transformed into different shapes, driving home the idea of 'experiential' and 'elevating brand experience'.
Perhaps the one thing that unequivocally unifies the three co-founders is their love for music, and with Lau Hoe Yin (better known as Blink) completing the pack, 33.3 stood out as a force to be reckoned with, not just in Malaysia but within the Asian region. Dubbed the Malaysian superstar DJ, which inevitably positioned him as an influencer, Blink prefers to take it all in stride. "33.3 is a product of great teamwork. We may come from different backgrounds, be it our upbringing or professional lives, but it is our mutual respect for each other that is the heart of this agency. In a short span of 4 years, 33.3
has managed to work on defining projects with renowned global brands such as Cartier, Disney, Marvel, PRADA, Tourism Malaysia, Johor Darul Takzim FC, Bulan Bintang, DefJam, Netflix, and many more. Speaking for both my partners in arms, Edwin and Zul, I believe that the best has yet to come, and until then, we will continue to fill up the skies with drones and, of course, produce amazing music videos", says Blink unassumingly.
Aligned with this win and the progressive growth and demand in the content, digital media, and activation industries, 33.3 has seen an incline in revenue of 8–12%. For the record, 33.3 is the first Malaysian company to have executed six highly technical drone light show productions, with two Malaysia Book of Records records broken for the most number of drones used in a light show (up to 350 drones for one particular project). "The Cartier drone light show held the record for a good 5 months before it was replaced with a local company that is all about the moon and the stars, also executed by 33.3,, Edwin gushed and continued, "but maybe that's a story for another time". 
In 2021, 33.3 was the proud recipient of the Markies' Local Hero Award. Organized by advertising+marketing, the Agency of the Year Awards are designed to measure, reward, and recognize Malaysia's top-performing marketing and advertising agencies. All entries were evaluated and judged by a panel of experienced marketers and industry experts.
Follow 33.3 on social media for current updates on the agency's projects:
Instagram, Facebook, LinkedIn, TikTok, and X (previously Twitter)
Or visit 33.3's website at 33-3.co.