KUALA LUMPUR, 15 NOVEMBER 2023 – ATLAS Vending Sdn Bhd, the vending machine branch of  Etika Sdn Bhd, the beverage producer for well known brands announced the launch of its collaboration with Ministry of Economy for Kempen Penyegar Dahaga RM1, part of the ongoing initiative by the government under Inisiatif Pendapatan Rakyat (IPR) or the People's Income Initiative.
As the largest food and beverage (F&B) vending machine operator, ATLAS Vending sets out on a mission to empower low-income earners through the use of its vending Machines available nationwide. Aligning its corporate social responsibility (CSR) commitment with the Ministry's vision of helping over 130,000 hardcore poor Malaysians, the initiative between these two parties is also aimed at tackling inflation and purchasing parity of the country in support of the circular economy.
ATLAS Vending stands as the largest F&B vending operator across Malaysia & Singapore, with reach across every state. Their impact is felt through the 3,210 machines under the IPR RM1 initiative nationwide, a testament to their commitment towards extending to people across the country. 
Announcing the partnership and launch of the vending machines at KL Sentral today with YB Rafizi Ramli, Minister of Economy in attendance, ATLAS Vending is introducing its first vending machine under the IPR initiative for beverages. Available for purchase at RM1 are three beverages under the Etika Group; Pepsi Black, bottled mineral water and Revive Isotonic, all of which are healthy refreshments that fulfil government guidelines, bearing the Healthier Choice logo.
Etika's Chief Executive Officer, Santharuban Thurai Sundaram said "We believe that every small step can lead to significant change. With this, we embark on a journey to empower communities, one refreshing sip at a time. Today marks a significant milestone in our journey towards making a positive impact on the lives of Malaysians."
He also said "ATLAS Vending is proud to introduce the RM1 drink vending machine, collaboration with the Ministry of Economy Malaysia, a testament to our commitment to the People Income Initiative. We hope to truly make a difference for our people and the country of Malaysia, which is now made possible through our efforts in providing affordable refreshments to all Malaysians."
Minister of Economy, Yang Berhormat Tuan Rafizi Ramli said, "Our goal is to provide affordable options to all Malaysians, ensuring that everyone can enjoy a moment o f respite without stretching their wallets. This initiative doesn't just quench your thirst; it nourishes the spirit of unity and shared prosperity. Since the launch of the vending machine initiative under IPR, many Malaysians from the low income group have been able to benefit from the affordable meal options provided by the vendors operating these vending machines.
He also said "We believe that the initiative is not just about the RM1 drink; it is also about working together with partners and stakeholders to focus on the social inclusivity and welfare of Malaysians, one of the aspects under the 12th Malaysian Plan. We are certainly pleased to have partners such as ATLAS Vending coming in to take the lead in this initiative, enabling the ministry to realise the shared vision of equitable distribution of benefits, and this initiative is a step in that direction."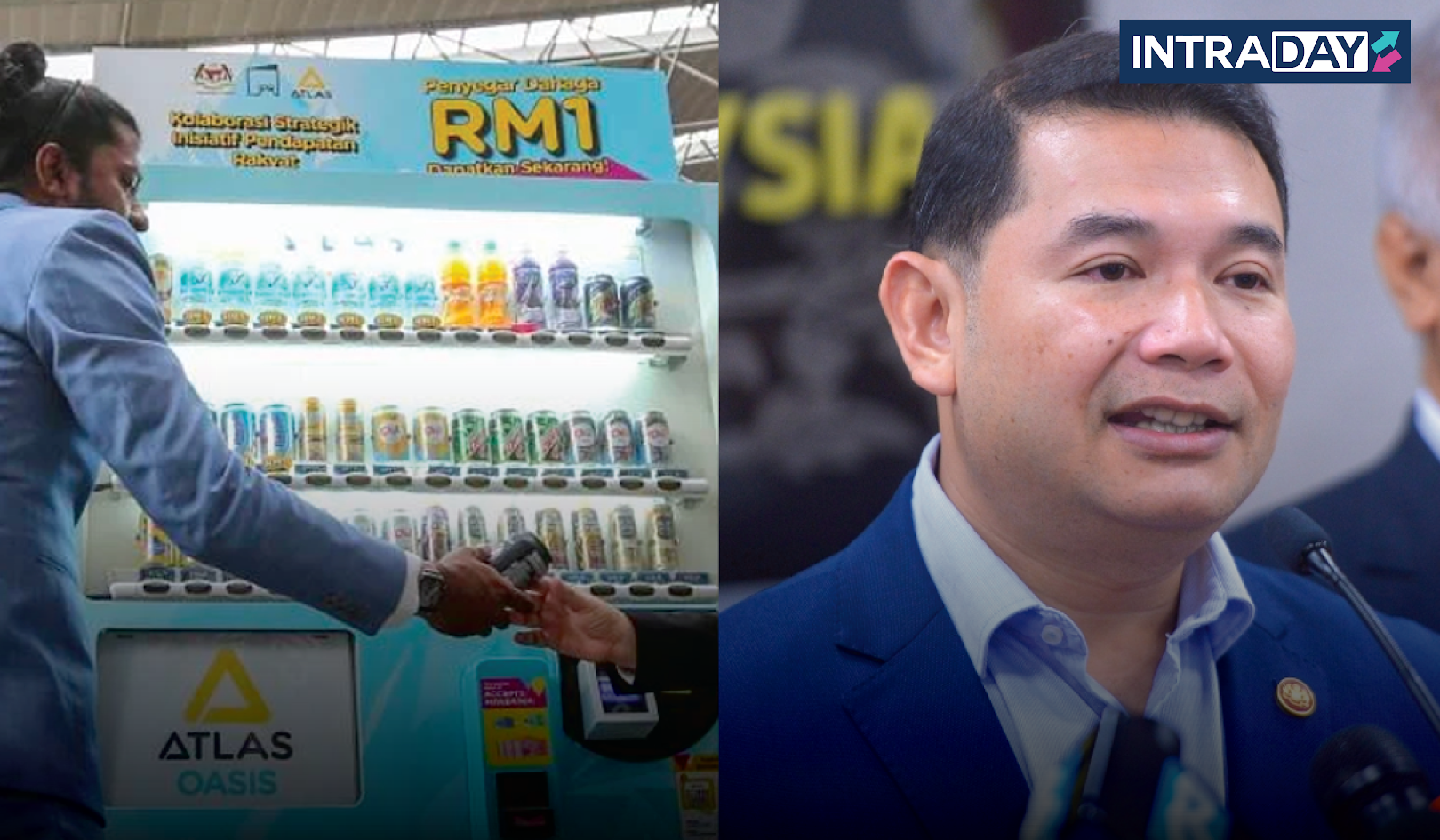 The People Income Initiative or Inisiatif Pendapatan Rakyat (IPR) was launched in February 2023 and focuses on a two-pronged strategy to increase the income of resilient poor families and the B40 while simultaneously addressing daily economic issues through its initiatives. IPR concentrates on eradicating poverty and increasing people's income through initiatives in agriculture, food businesses, and service providers.
Under IPR, the Ministry is focusing on three key modules to eradicate poverty amongst the low-income group. This comprises Agro Entrepreneur Initiative (Intan), Food Entrepreneur Initiative (Insan) and Services Operator Initiative (Ikhsan).
With the partnership announcement between ATLAS and the Ministry of Economy, the RM1 drinks will be made available nationwide across 3,210 vending machines.
ATLAS Vending's expertise extends beyond food and beverage vending solutions. They also empower retail brands through their vending machine automation as seen through their partnership with Siti Khadijah, enhancing accessibility and convenience for the ibadah needs of Malaysians. Brands interested in exploring a partnership with ATLAS Vending can contact them at [email protected]
For more information on this collaboration, check out ATLAS Vending's Facebook page at https://www.facebook.com/atlasasia.co/. For more information on the People's Income Initiative, please visit https://ipr.epu.gov.my/about